Because people who care about great motorcycles need the right motorcycle insurance company.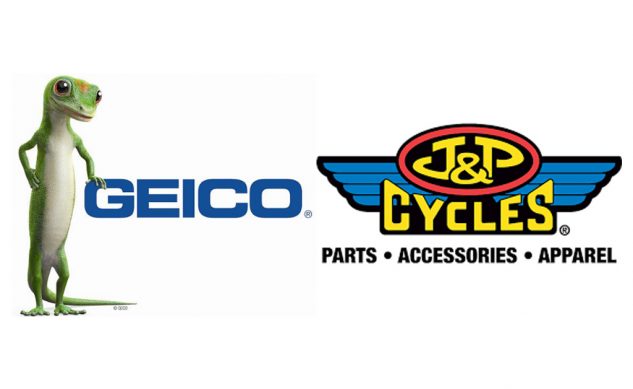 ANAMOSA, Iowa — February 3, 2017 — Today, J&P Cycles, the world's largest aftermarket motorcycle parts and accessories retailer, announced an exclusive partnership with motorcycle insurance provider GEICO.
"Our customers are passionate about customizing their motorcycles and need an insurance company that supports them. Coverage of accessories is critical for anyone who loves having the coolest looking bike around, and we think GEICO does that best," said Zach Parham, vice president and general manager of J&P Cycles.
The new partnership agreement provides riders with personal insurance consultations from GEICO at J&P Cycles stores during Bike Week in Daytona Beach, Florida and the Sturgis Rally in South Dakota. Additionally, J&P Cycles Gold Club members and GEICO motorcycle insurance policy holders will receive other benefits online and at events to be announced throughout the year. Riders and customers will also find detailed information on how to select the right motorcycle protection and access to no-obligation insurance quotes from GEICO from the J&P Cycles website.
"With J&P Cycles being the premier retail destination for motorcycle fans worldwide, we couldn't think of a better partner to help us strengthen our presence in the motorcycle community," said Ted Ward, GEICO vice president.  "This is a win-win for everyone and GEICO is looking forward to working together to help J&P's customers with their insurance needs."
Information about J&P Cycles and partnership events is available at www.jpcycles.com.
About J&P Cycles: Founded by John and Jill Parham in 1979, J&P Cycles is the world's largest online aftermarket motorcycle parts and accessories retailer. J&P Cycles operates retail locations in Anamosa, Iowa, Daytona Beach, Florida, and Sturgis, South Dakota. Known for their legendary customer service and technical support, the company's Rider Service Center is located in Daytona Beach, Florida. J&P Cycles supports motorcyclists with pop-up retail locations at over 20 motorcycle rallies, races and events throughout the U.S. each year.
About GEICO:  GEICO (Government Employees Insurance Company) is a member of the Berkshire Hathaway family of companies and is the second-largest private passenger auto insurance company in the United States. GEICO, founded in 1936, provides millions of auto insurance quotes to U.S. drivers annually. The company serves more than 14 million private passenger customers, insuring more than 23 million vehicles (auto & cycle).