Story and Photos by ITN European Reporter Herve' Rebollo. Photos by Samar.
Salut à toi American rider,
You may remember I sold my lovely FATBOB in last November. I can't believe it but my brand new motorcycle is not yet ready … At least, I can daily ride my little 400cc Peugeot scooter  …
So, it's not because I'm not on the road that I have nothing to show you motorcyclingly speaking … let me take you far, very far away, on the other side of the planet, from Tapri Himachal Pradesh to Kaza in the famous Himalayas. Yes!!
But, first of all, let me introduce a friend of mine … who is the real hero of this incredible ride, the gentleman rider Maj Samar TOOR (Retd) an Infantery veteran. He hs been part of UN mission in South Sudan. He is a sniper specialist. So recently, he took up a risky solo trip on his Harley Davidson without any back up ever in the Himalayas. In fact I didn't met Samar on the road but  … on Instagram, simply because we had the same kind of bike, a Fat Bob, and used to talk about it …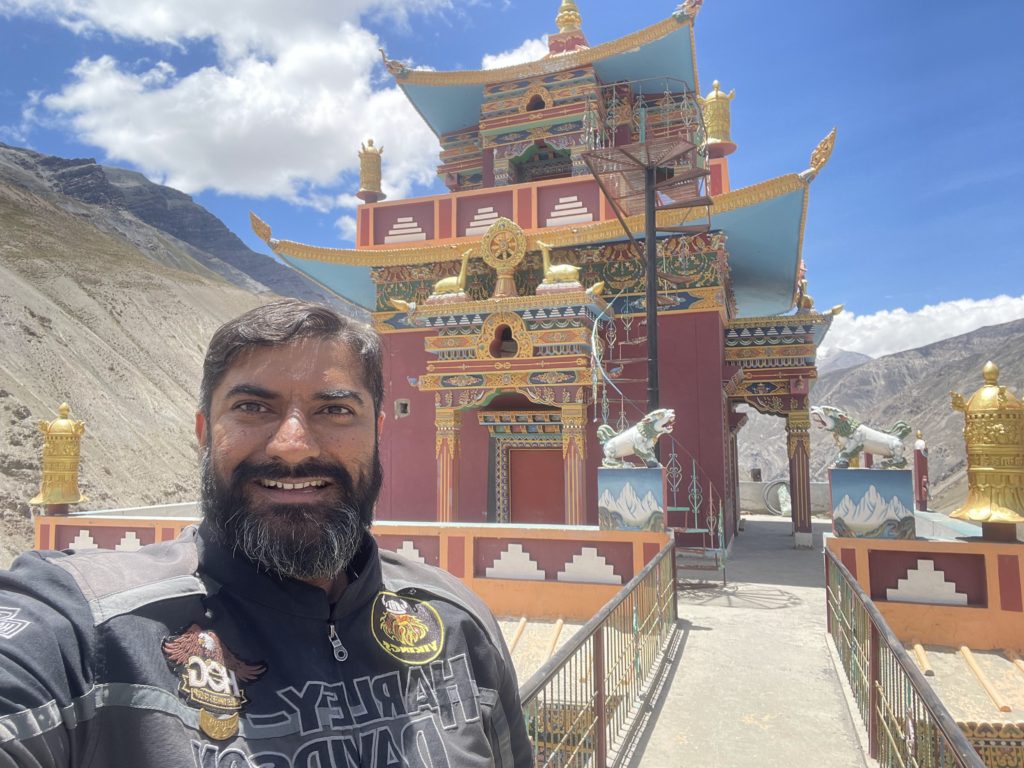 Samar wrote the following text about his amazing trip. Enjoy it! Thank you so much Samar for sharing it.
 Tapri to Rekong Peo(36 min (23.6 km) via NH 5
It was on 8th July morning where i realized after my retirement it has been quite some time that life has been dull and not much happening. So I made up my mind to do a trip from Tapri Himachal Pradesh to Kaza which is one of the highest passes in the himalayas. Kaza is overlooked by high mountain ridges on the NE and SW sides. The Spiti River runs from NW to SE past Kaza. Kaza has two access routes: one from Kinnaur valley and the other from the Lahaul valley. The route via NH 505 through Kinnaur is open throughout the year, except for occasional short periods resulting from landslides or heavy snowfall. This road, starting from Shimla, follows the Sutlej river unto a little beyond Poo, thereafter turning northwards to follow the Spiti river all the way to Kaza. The other road starts from Manali and after crossing the 13,090-foot (3,990 m) high Rohtang Pass to reach Gramphoo where it joins the road from Keylong and proceeds south along Chandra River till Batal then climbs up to cross the 14,928-foot (4,550 m) high Kunzum pass, enters the Spiti valley to reach Kaza. It remains closed during winter months, normally from October end to June due to heavy snowfall on both the passes.[4] Kaza is one of the coldest towns in India. The temperature varies greatly in different seasons as well as within a day. January is the coldest month of the year with an average temperature of -25 °While July is the hottest month with an average temperature of 10 °C. So I Decided to take a solo trip. Though against all the advice from family and friends not to go solo but my heart insisted I go ahead.
Rekong Peo to Pooh (1 hr 32 min (66.9 km) via NH 5
On 9th morning I packed up my clothes and carried the Air compressor and puncture kit along with me. Got the fuel top up and began my bike ride at early morning at 09:00 hrs approx. On my way I reached the last petrol pump near Rekong  Peo. Now this is the last Gas station till Kaza that is approximately 230kms away. There on I rode to a place called Pooh which is approximately 66 kms and takes about 2 hrs to get there. From Pooh the landscape began to change and the passes and mountains began to get bigger and bigger in size. The cold dry air swept across the uncovered skin causing dehydration and severe sun burn for the whole trip. Gungho but wreck less on my part. After getting to pooh I reached a connecting bridge with overhang of mountains and the Sutlej river flowing alongside the road throughout. Here I took a halt at Mr. Vishal Negi's small shop. Humble shop but it is like an Oasis in the middle of nowhere. Here I quenched my thirst and had the famous Maggie noodles by nestle. Trust me they were amazing in taste. After that I got a few photographs clicked at the overhang of the mighty mountains by staying in their shade despite the bright penetrating sun light. The best part is I could park my bike across and in the middle of the road to click the pictures of the Fxdf Fat Bob and self with no one around for miles and miles away.
Pooh to Kalpa Valley (1 hr 25 min (65.6 km) via NH 5
There on I proceeded to Kalpa valley where there is a police check post where  they note the names of tourists along with their vehicle number and phone numbers for safety and security purposes of the travelers. Kalpa is a village with a history of ancient temples. The Sutlej River below hurtles through deep gorges, the winding mountain road is bordered by chilgoza forests. The serenity of this sleepy hamlet was not often visited by foreigners until recently, but there are still relatively few visitors. There are now over 5 places to stay in Kalpa and more, below, in Reckong Peo where travelers must stop to get their inner line permits to continue upwards to the Spiti Valley, which is a small ancient part of what used to be Tibet. Also visible from this place is the sacred Shivling rock on the Kailash mountain that changes its color at different points in the day.
Now I had  to be careful with the throttle as I had to control my acceleration uphill to conserve my fuel up to Nako valley. So in between Kalpa and Nako valley beautiful roads are there where one can reach up to speeds of 100 for a short duration and then gently brake to move upwards of the mountains.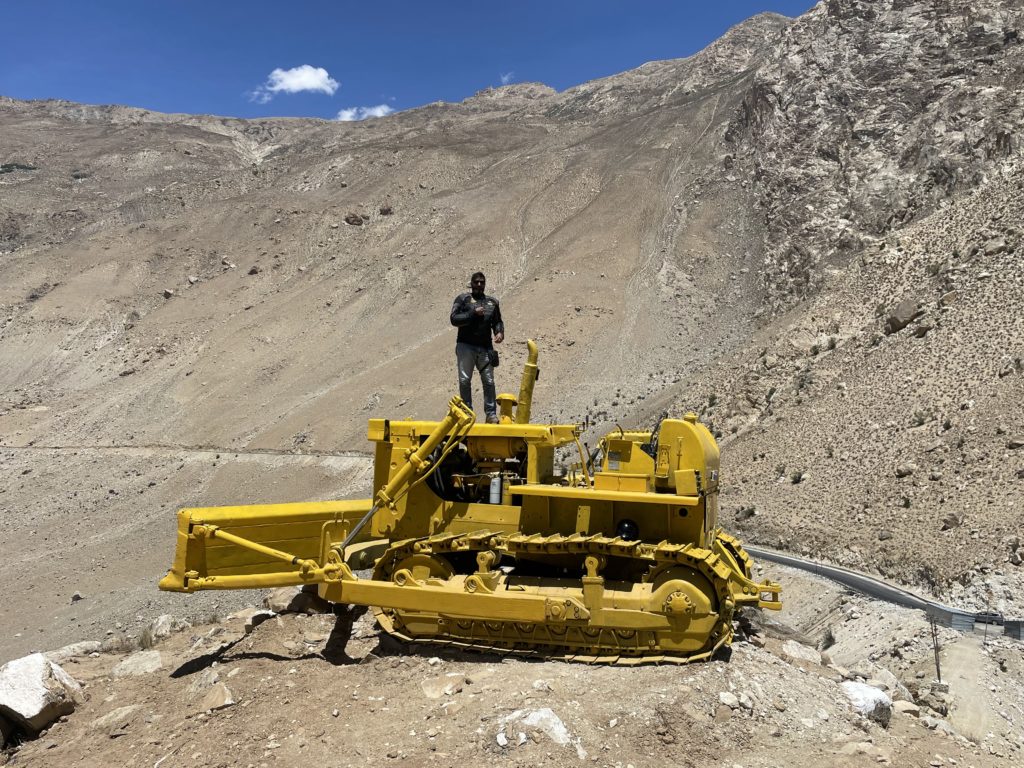 Then enroute I came across a GREF Yellow Bulldozer located at the top of a hill. Trust me it must have been a risky endeavor to have placed the bulldozer at such a height with barely no room to maneuver. Got a few pics clicked with the epic monument which is the reason for making of the roads accessible all year. From there on I proceeded to Nako valley. On reaching Nako I had to get 5 liters of fuel top up to be psychologically at Ease. So it costed for 5 liters of fuel 650 Rupees. I took a stop for a sumptuous Momo meal at Sonam Dhaba at Nako.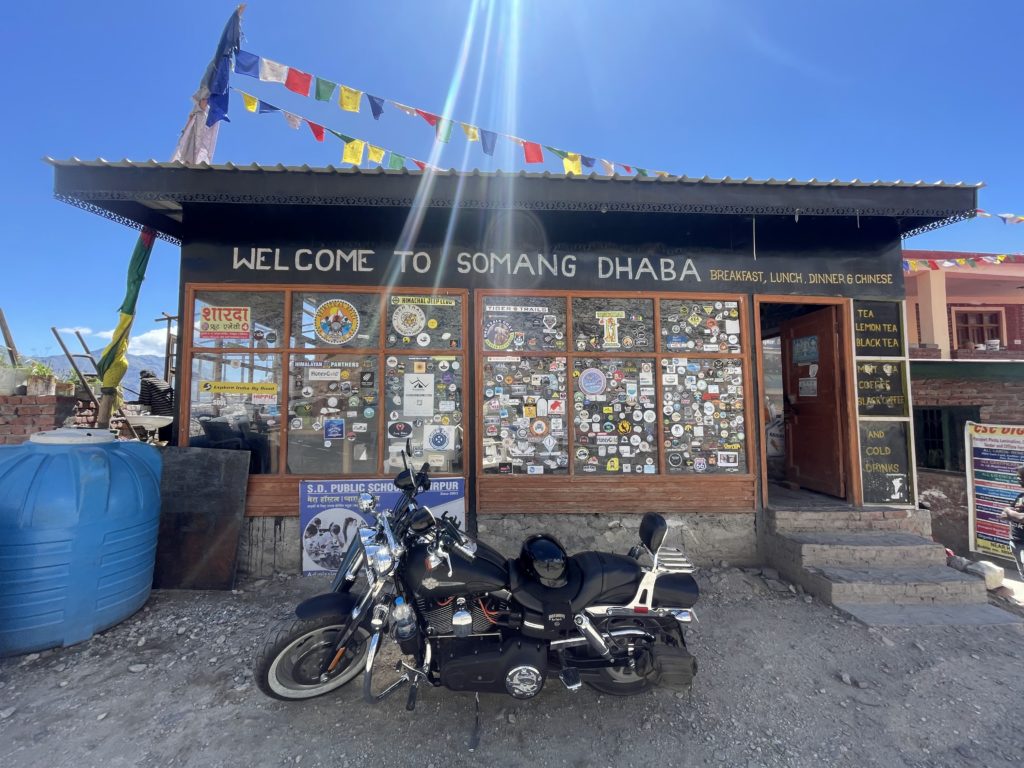 Nako To Sumdo (1 hr 9 min (35.8 km) via NH505
Nako is the largest village at an elevation of 3,625 meters (11,893 ft) (3,662 meters (12,014 ft) is also mentioned in the Hangrang Valley with the backdrop of Reo Purgyal which has an elevation of 6,816 meters (22,362 ft) and is the highest mountain in Himachal Pradesh.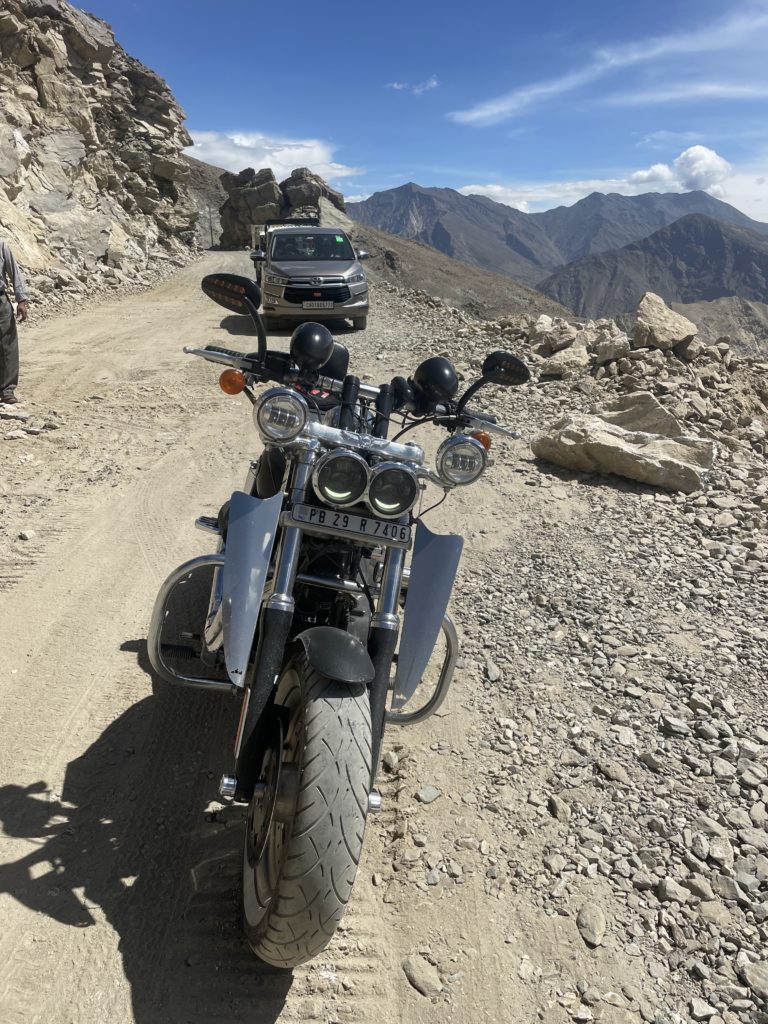 The village is now on a more stable location near the Nako Lake (formed by the slopes of the mountains of Reo Purgyal),compared to the opposite bank across the Nako river where it was located earlier and then shifted because of tectonic upliftment of the site. As of 2002, the village had a population of 416.Access to the village is from a branch road of 7 kilometers (4.3 mi) from the National Highway 22. It is 117 kilometers (73 mi) away from Kalpa.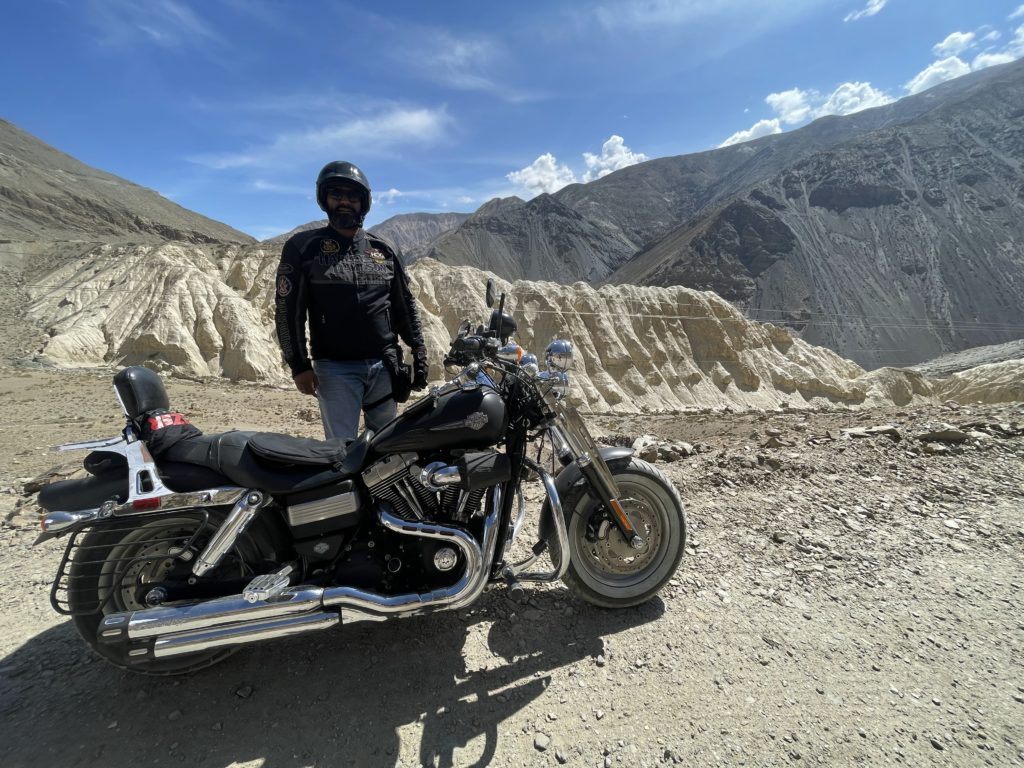 Nako Monastery in the upper part of the village and the Nako Lake are important landmarks in the village.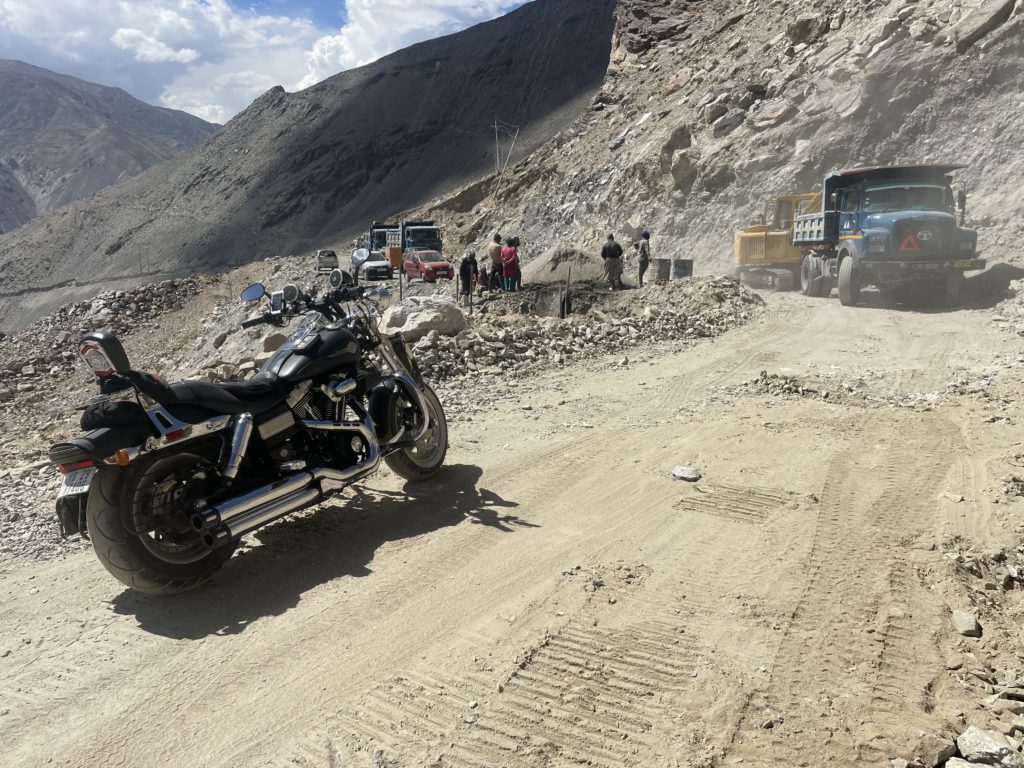 Apples and Sun dried apricots, Apples are the agricultural produce from the village. There then came a stretch from Malling onwards about 20kms stretch as an off roader due to the construction of the 2 lanes highway road by the Border Roads Organizations staff. Trust me all my heart and respect goes out to these Teams for constructing the roads in the most adverse conditions amid inclement weather.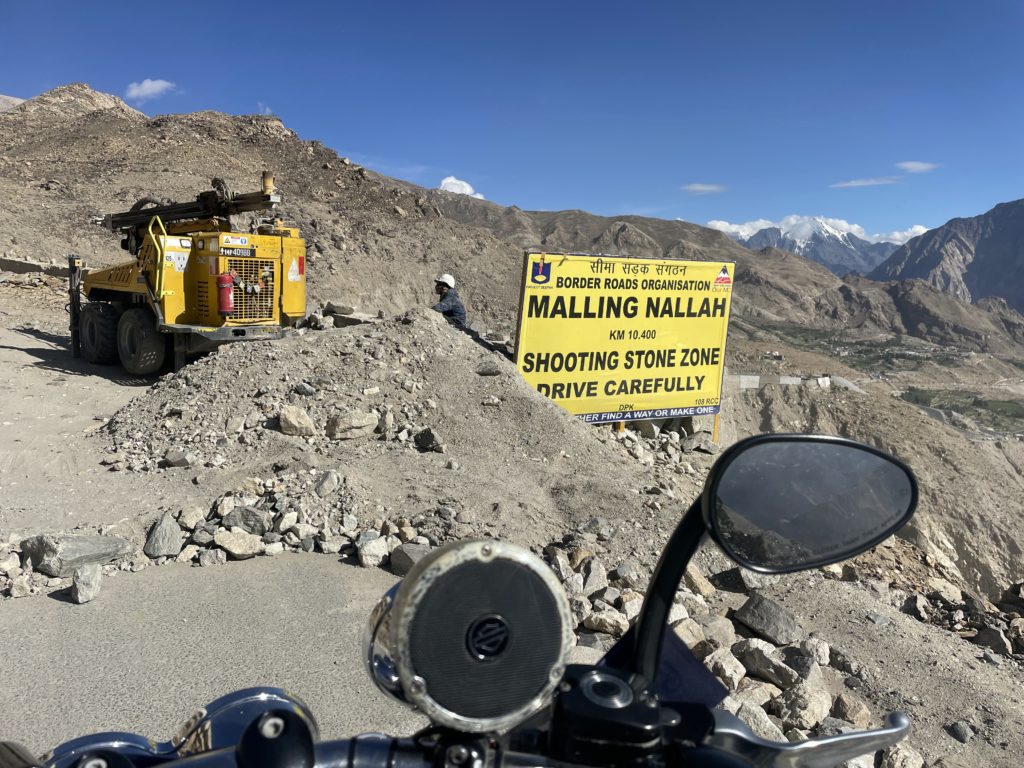 And so I had the honor and privilege to have a photo clicked with the Laborer's who were constructing this stretch. Salute and respect to them all the way from the bottom of my heart goes to them.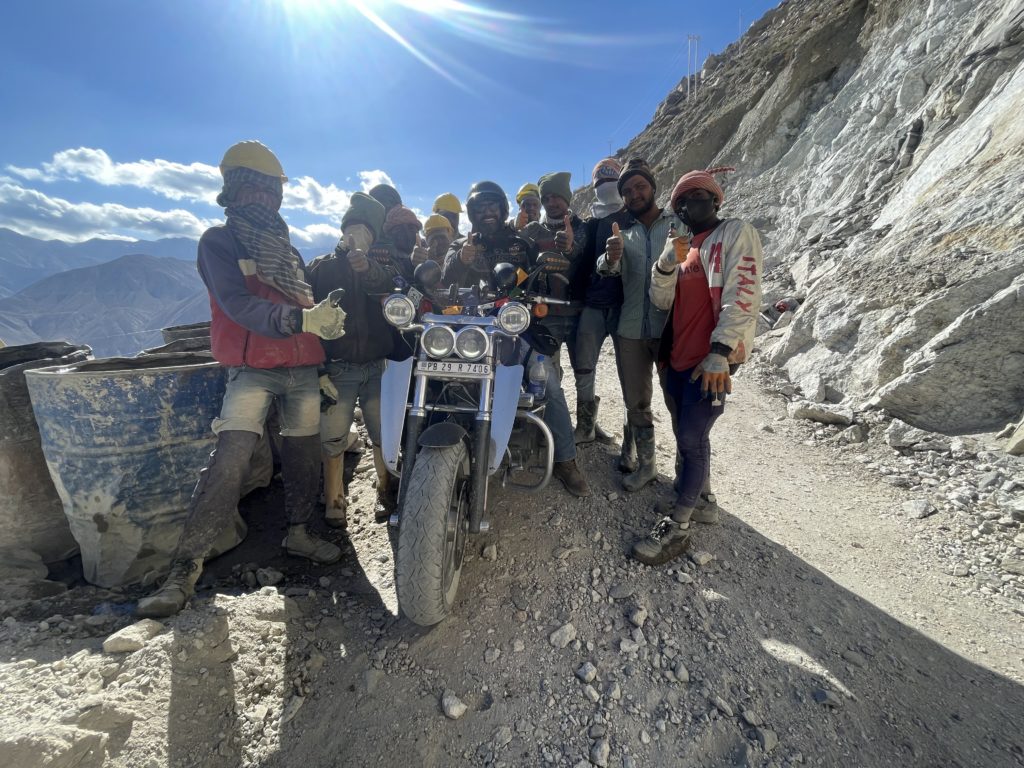 On Reaching Sumdo valley one can feel the effects of nature as the height increases along with the distance I was covering. Height above sea level:3280 m, 10761.16 ft and so the need for oxygen is felt due to fatigue and deeper breaths. On getting to Sumdo i was informed that my accommodation has been confirmed for the evening at Kaza and so I had quick lunch at Sumdo and then proceeded to Kaza from Sumdo at 15:30 hrs approx.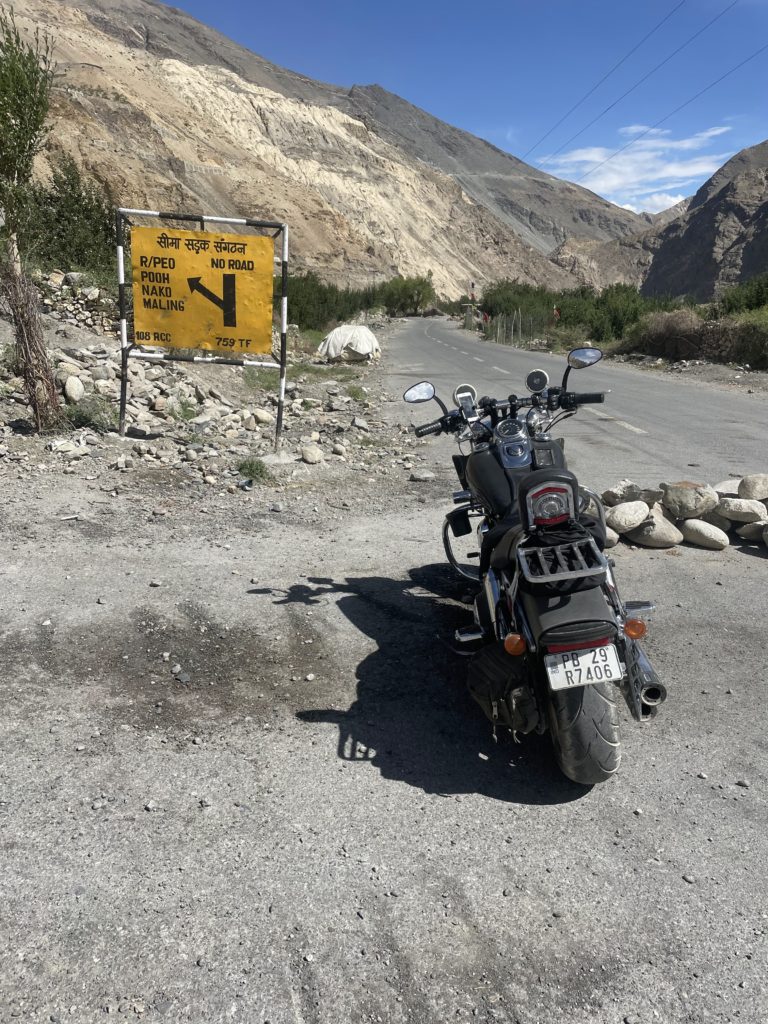 Sumdo-Tabo-Kaza (2 hr 17 min (75.3 km)
Now this was the real deal stretch where the shooting stone menace and the gradient of the landslide slope was almost 70 Degrees looking down upon the road and then to the left was the steep ditch into the aggressive and merciless flowing of the Sutlej River. There are no chances of error here at all as it may result in loss of life because the terrain is so unpredictable and treacherous.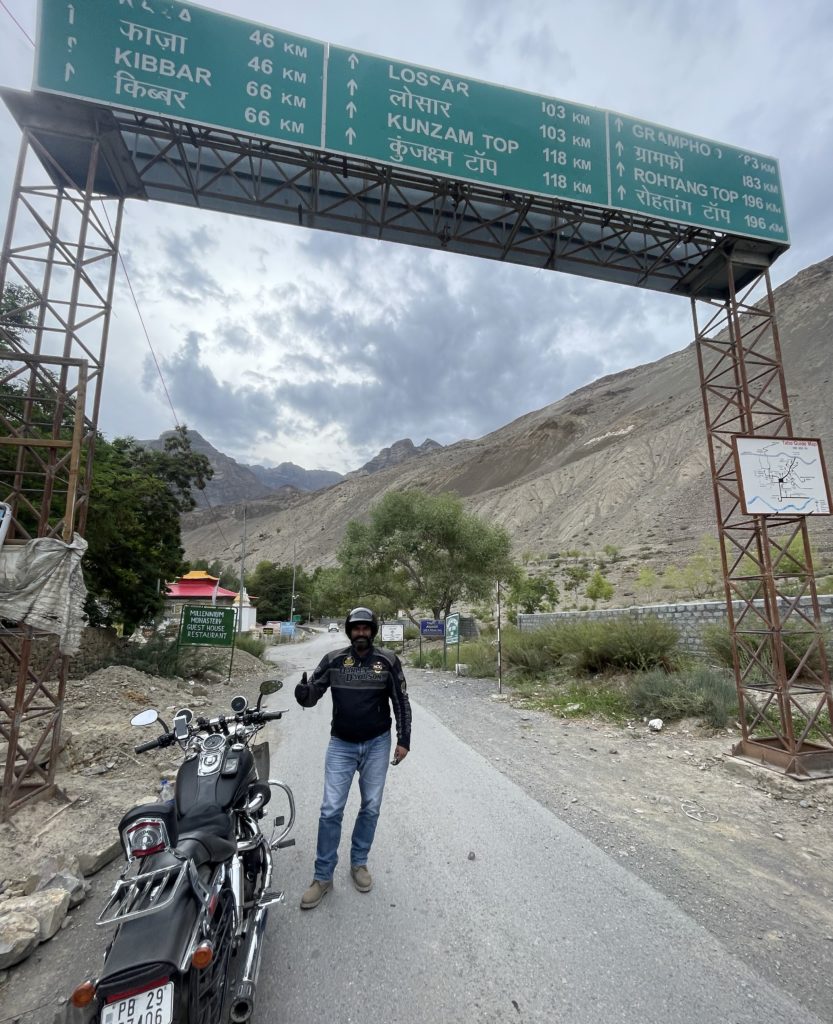 Evening Skies are like being on another planet altogether.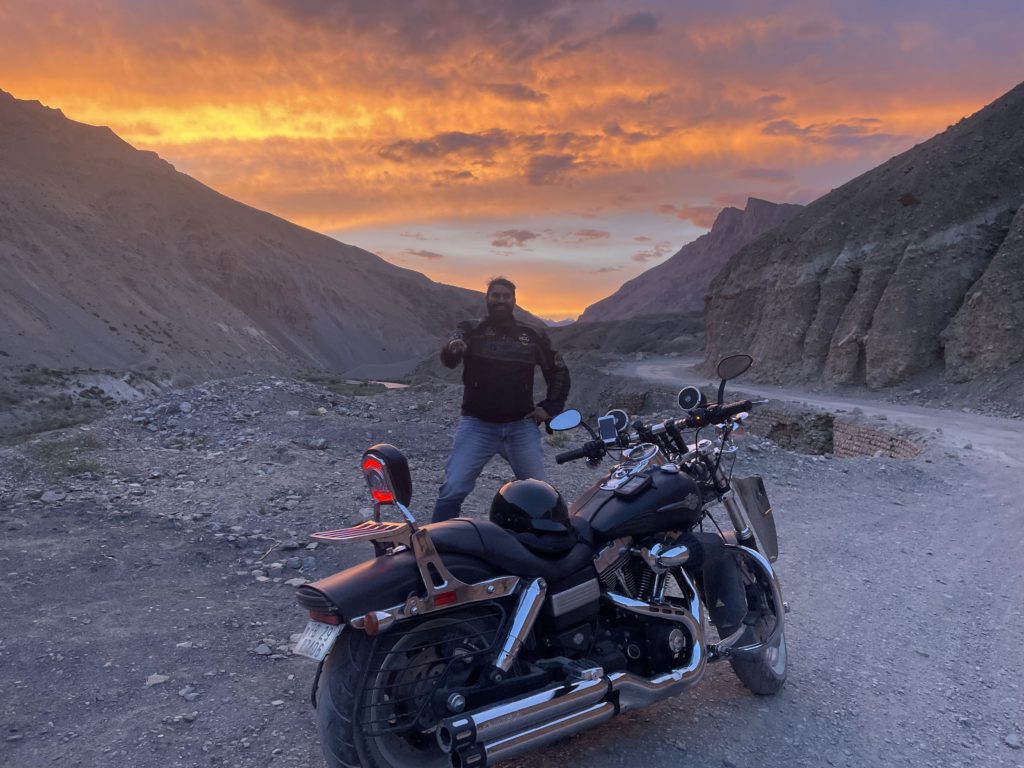 Along the route you shall find car wrecks and damaged vehicles covered with plastic sheets to not show the damage caused by shooting stones and falling of the vehicles from the slopes to the public as it may have a psychological impact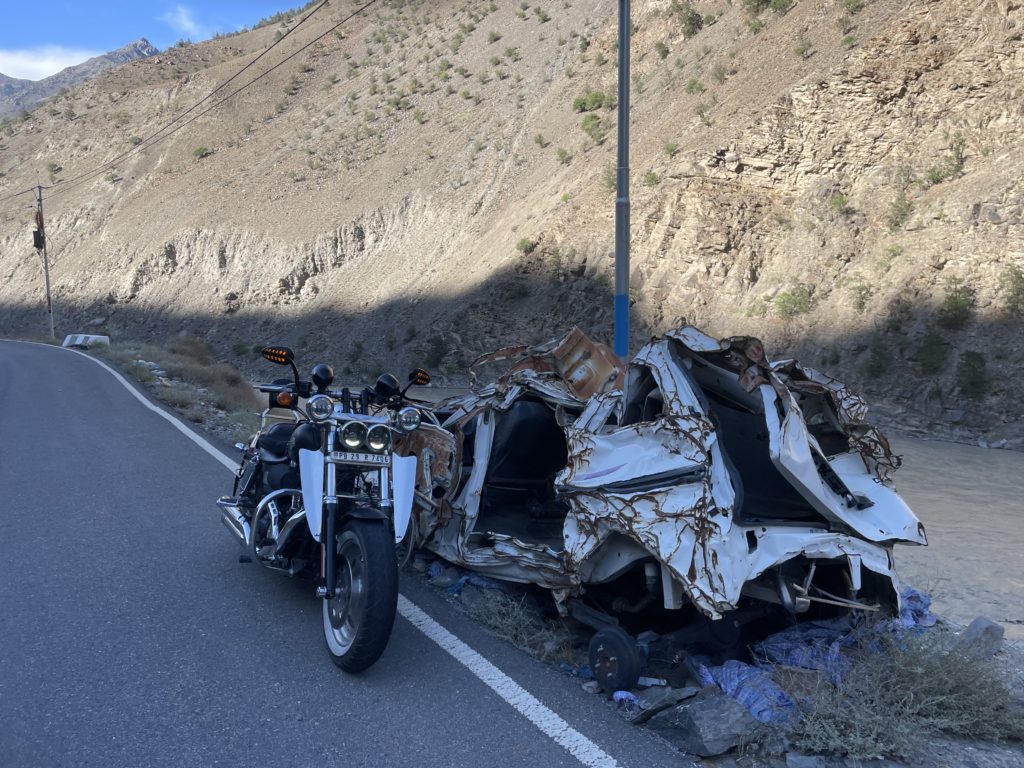 Main industry is tourism here so locals have their ways and means to keep things as normal as possible despite the grave dangers the tourists face. So we stayed at the SAKYA ABODE in Kaza.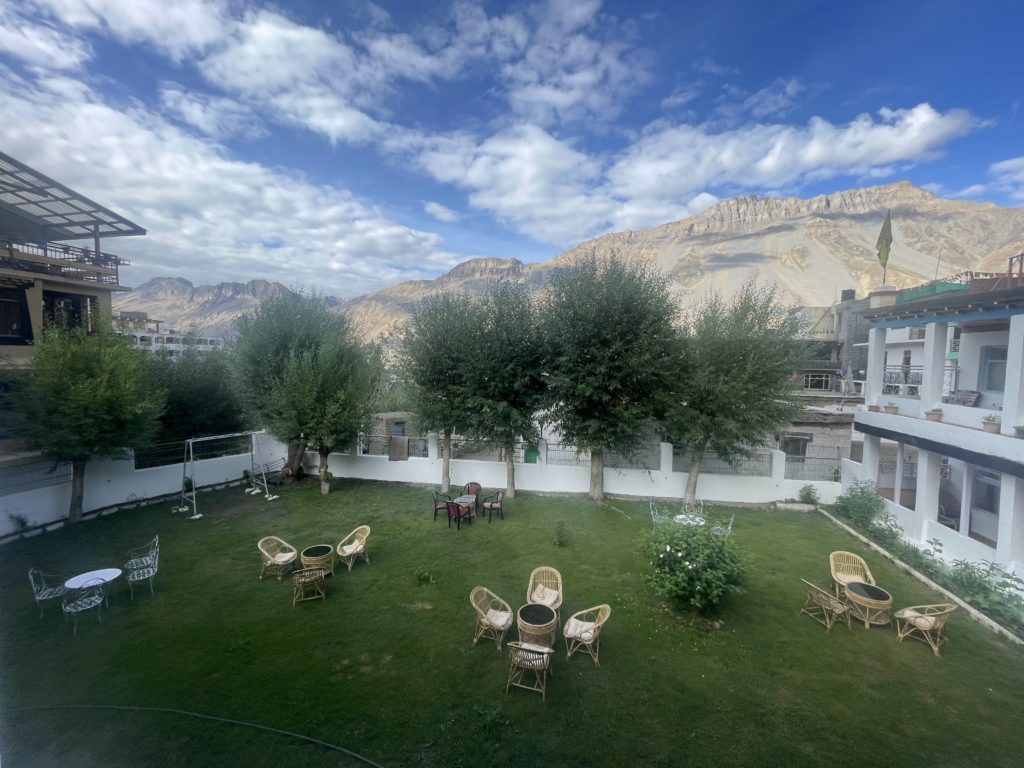 Awesome view from the hotel which is facing the Kaza pass. Early mornings seems like heaven for a photographer. A pure paradise for Photographers. So i got a few pics clicked with the Himalayan chapter Jacket at the hotel. The Manager told me that many Harley riders in groups stayed at his place but it was the first time that a Harley solo rider with no back up at all what so ever had come to stay at his hotel. It was generous of him to have offered me a good discount.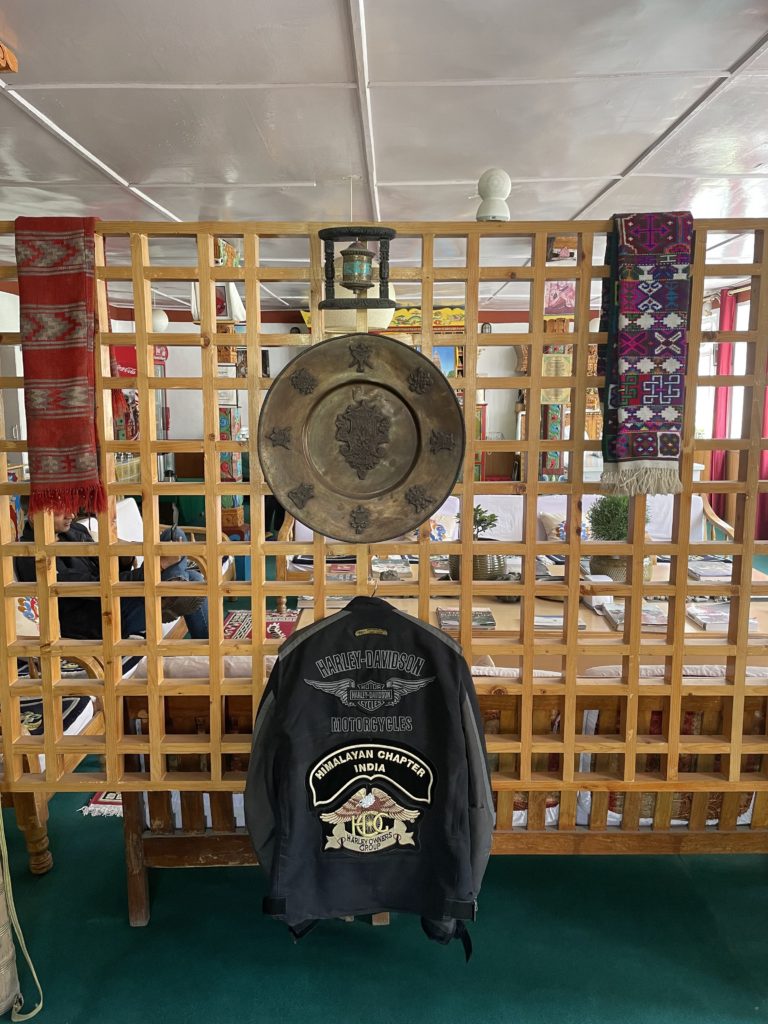 Kaza to Key Monastery (27 min (14.3 km)
Then we proceeded to the KEY Monastery which is an epic landscape and mesmerizing to the eyes.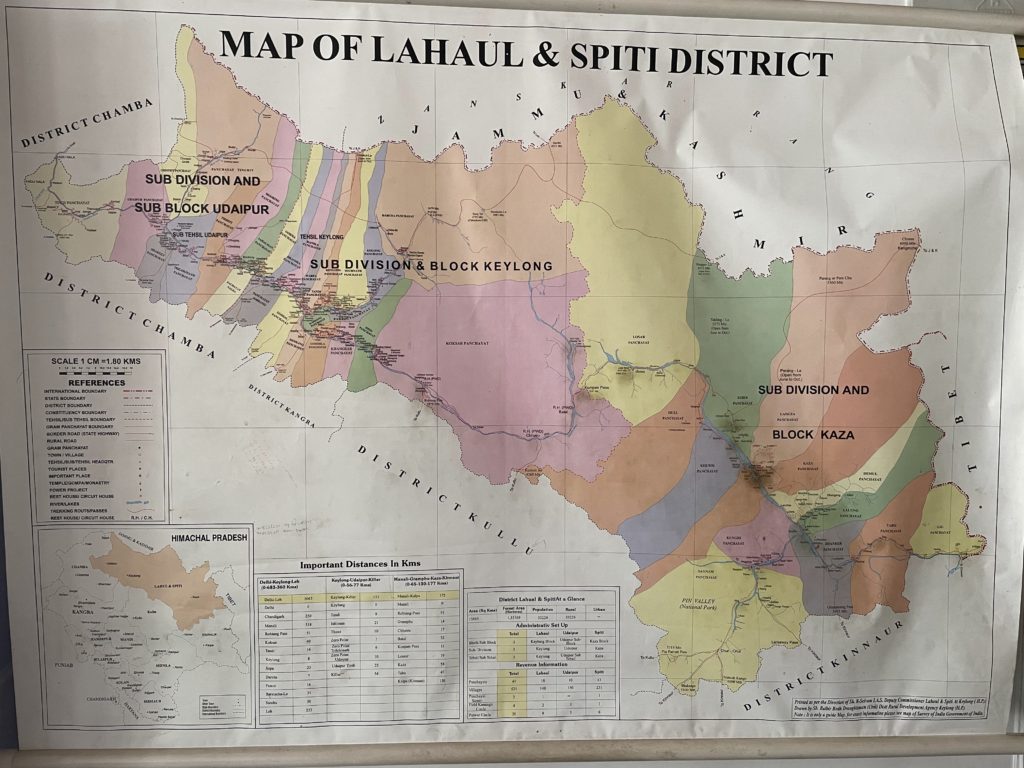 Simply phenomenal and breath taking view of the Kaza valley going towards Losar. On reaching the Monastery the monks were amazed to see such a magnificent machine made by man which could negotiate such erroneous terrain.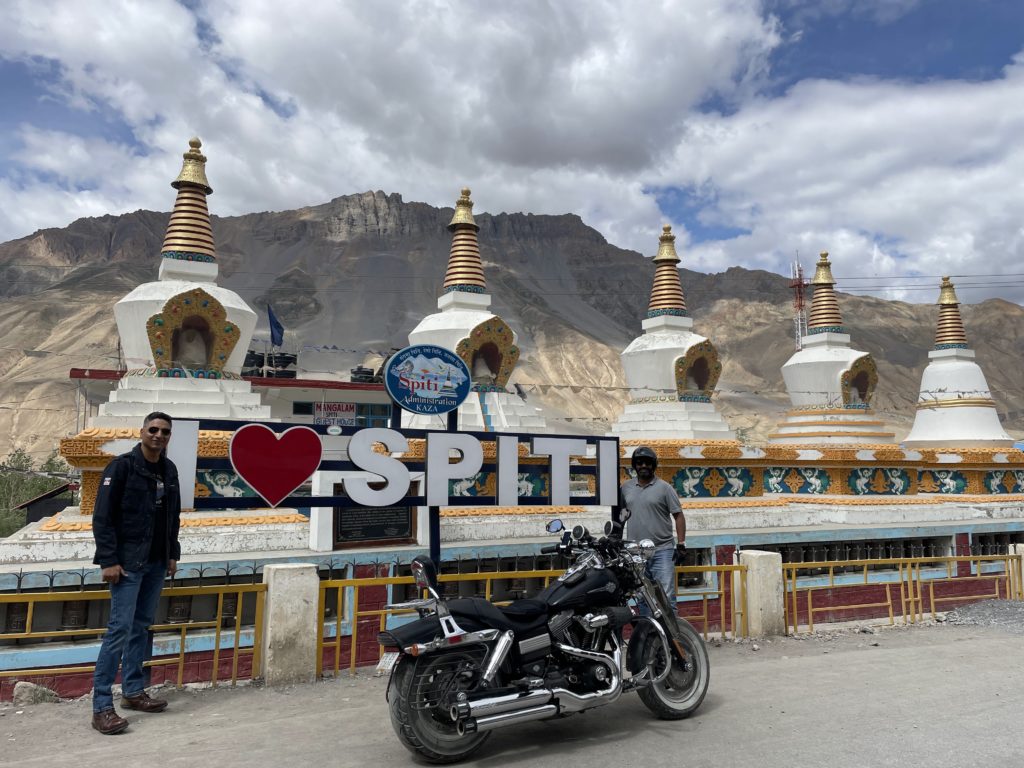 Kye Gompa (also spelled Ki, Key or Kee – pronounced like English key) is a Tibetan Buddhist monastery of the Gelugpa sect located on top of a hill at an altitude of 4,166 meters (13,668 ft) above sea level, close to the Spiti River, in the Spiti Valley of Himachal Pradesh, Lahaul and Spiti district, India.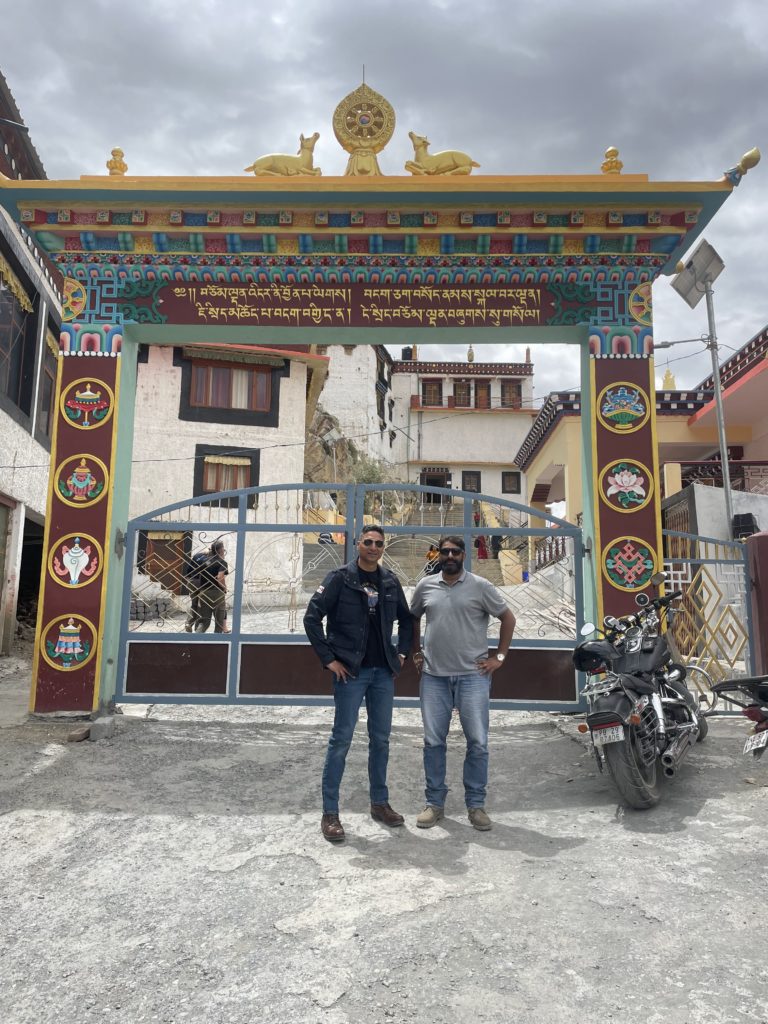 It is the largest monastery of the Spiti Valley and a religious training Centre for lamas. It reportedly had 100 monks in 1855.It is about 12 km north of Kaza. Kye Gompa is said to have been founded by Dromtön (Bromston, 1008-1064 CE), a pupil of the famous teacher, Atisha, in the 11th century. This may, however, refer to a now destroyed Kadampa monastery at the nearby village of Rangrik, which was probably destroyed in the 14th century when the Sakya sect rose to power with Mongol assistance was attacked again by the Mongols during the 17th century, during the reign of the Fifth Dalai Lama, and became a Gelugpa establishment.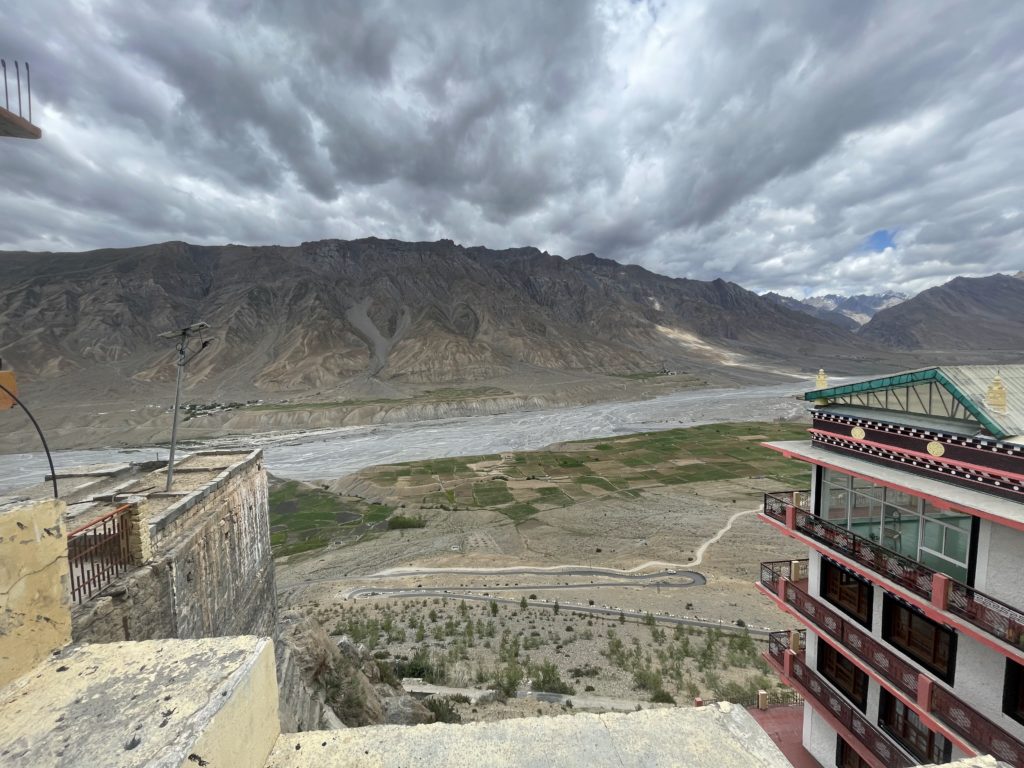 In 1830, it was sacked again during the wars between Ladakh and Kulu. In 1841, it was severely damaged by the Dogra army under Ghulam Khan and Rahim Khan. Later that same year, it suffered more damage from a Sikhs. In the 1840s, it was ravaged by fire and, in 1975, a violent earthquake caused further damage which was repaired with the help of the Archaeological Survey of India and the State Public Works Department.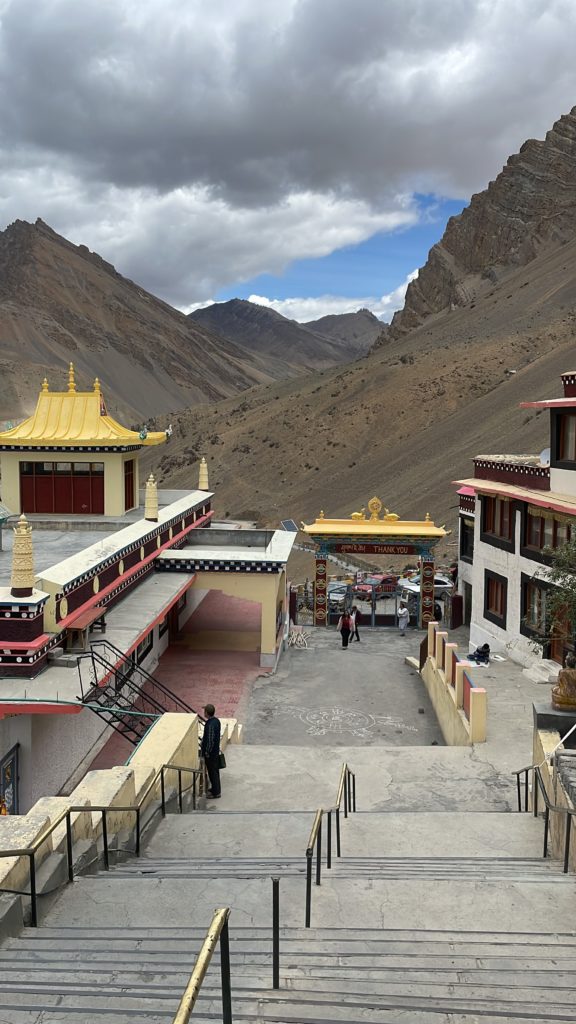 The walls of the monastery are covered with paintings and murals, an example of the 14th century monastic architecture, which developed as the result of Chinese influence monastery has a collection of ancient murals and books, including Buddha images. There are three floors, the first one is mainly underground and used for storage.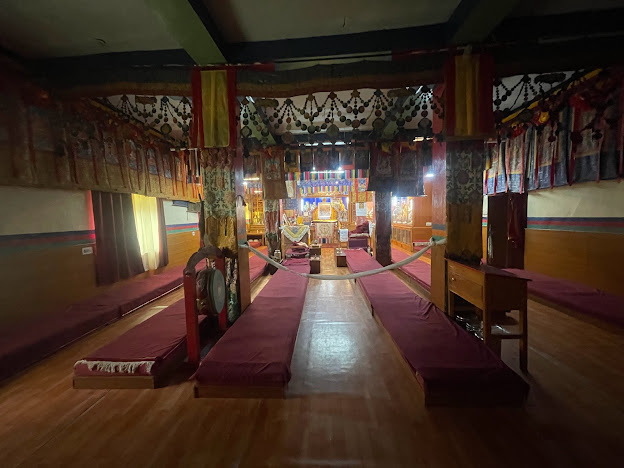 One room, called the Tangyur is richly painted with murals. The ground floor has the beautifully decorated Assembly Hall and cells for many monks. Kye Gompa now belongs to the Gelugpa sect, along with Tabo Monastery and Dhankar Gompa, one of three in Spiti.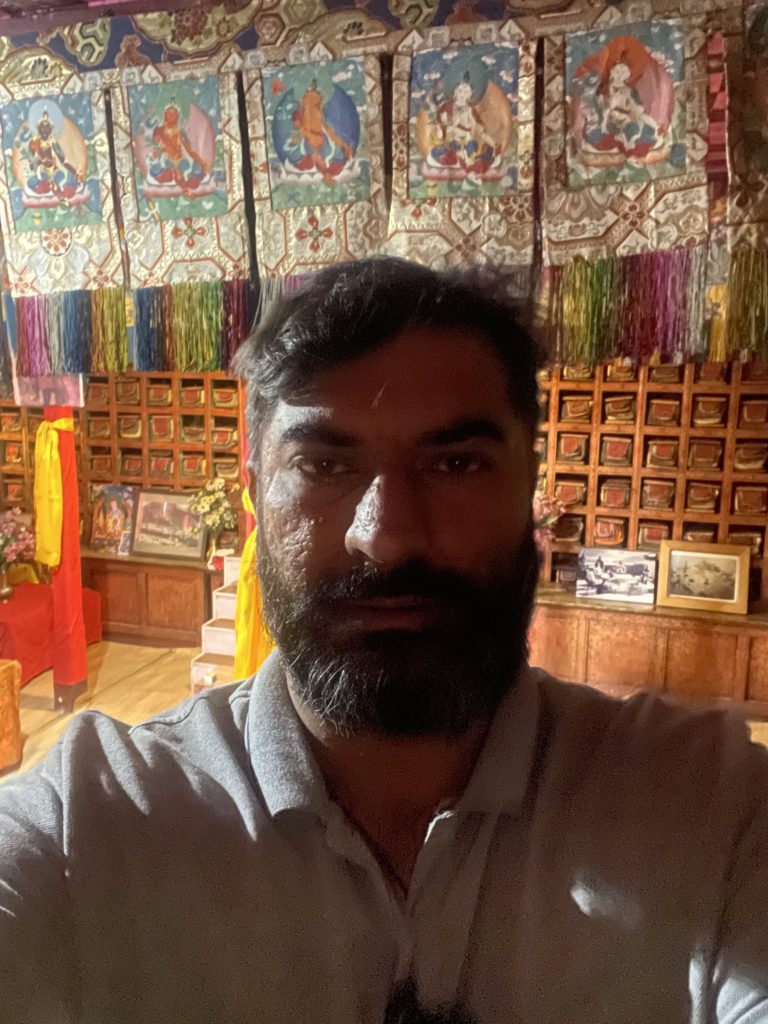 The monastery of Kee, for instance, accommodates nearly 250 monks, who reside within the sacred walls throughout the year. Some monks go to South Indian Monasteries during winters, the rest of them stay inside the monastery walls.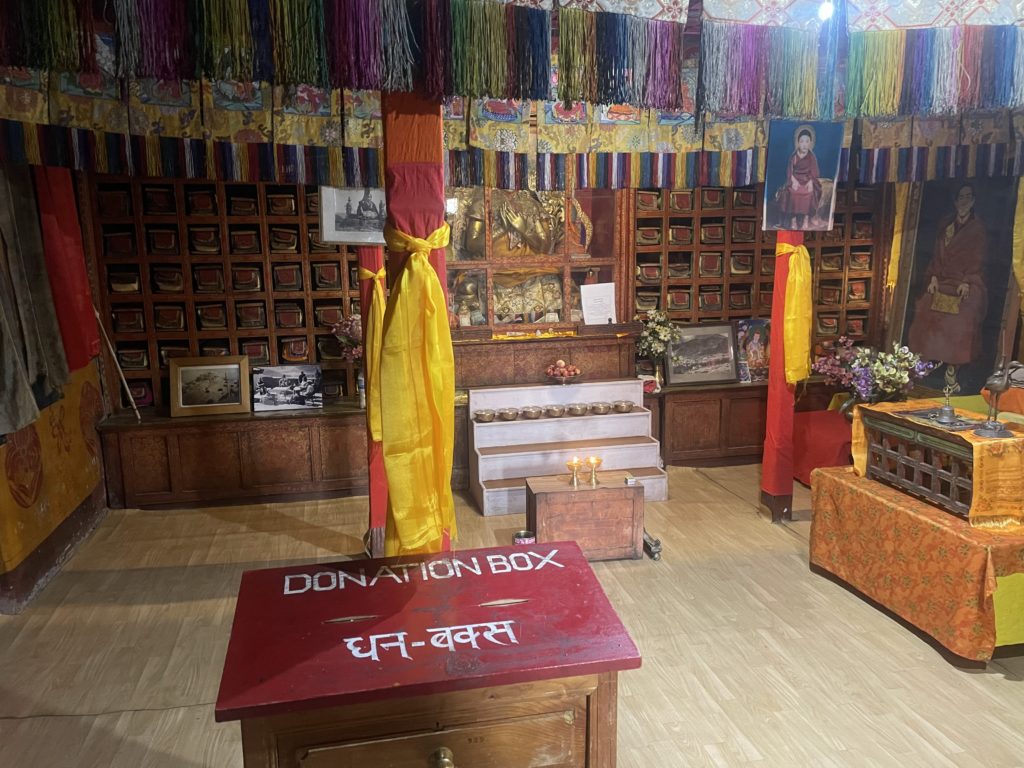 These monasteries have their regular heads; these heads are the reincarnations of Guru Rinpoche. The current head of Kee Monastery is from Kinnaur district of Himachal Pradesh. He is 19th birth of Guru Rinpoche. I have rare photographs of the Monastery which are never seen before by many including videos inside the monastery.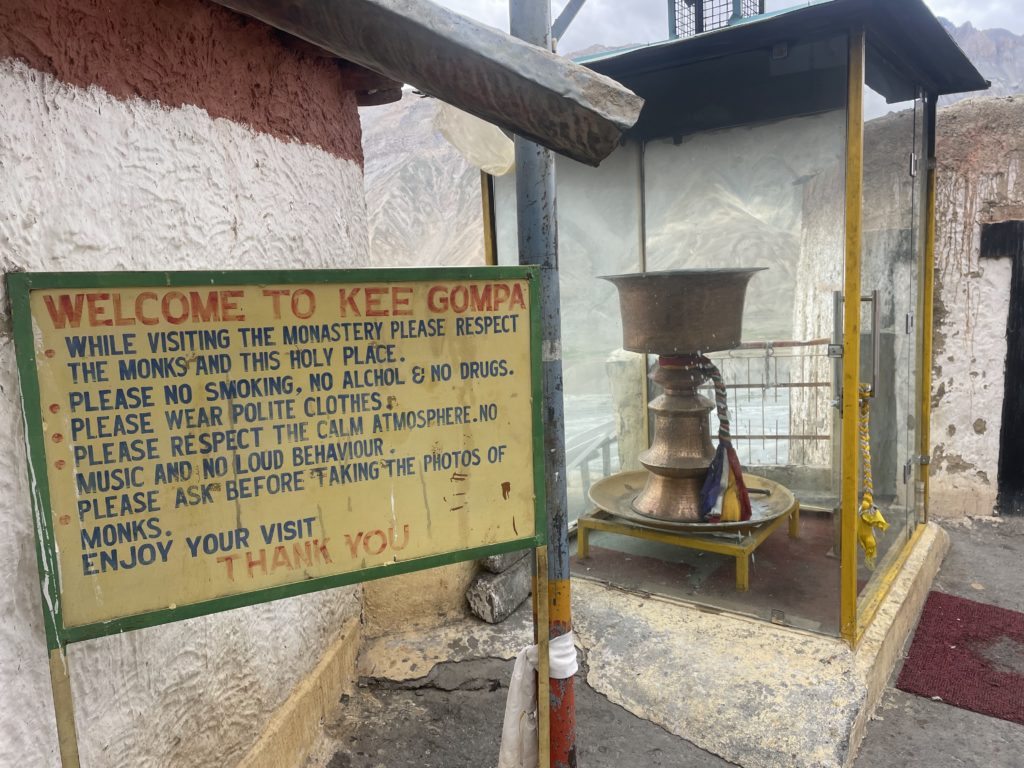 Key Monastery to Chicham Valley (18 min (6.7 km)
After the Holy visit to the monastery i rode to the famous Chicham bridge  which is the only means to connect Chicham valley with the rest of India. So it is a bridge of vital importance.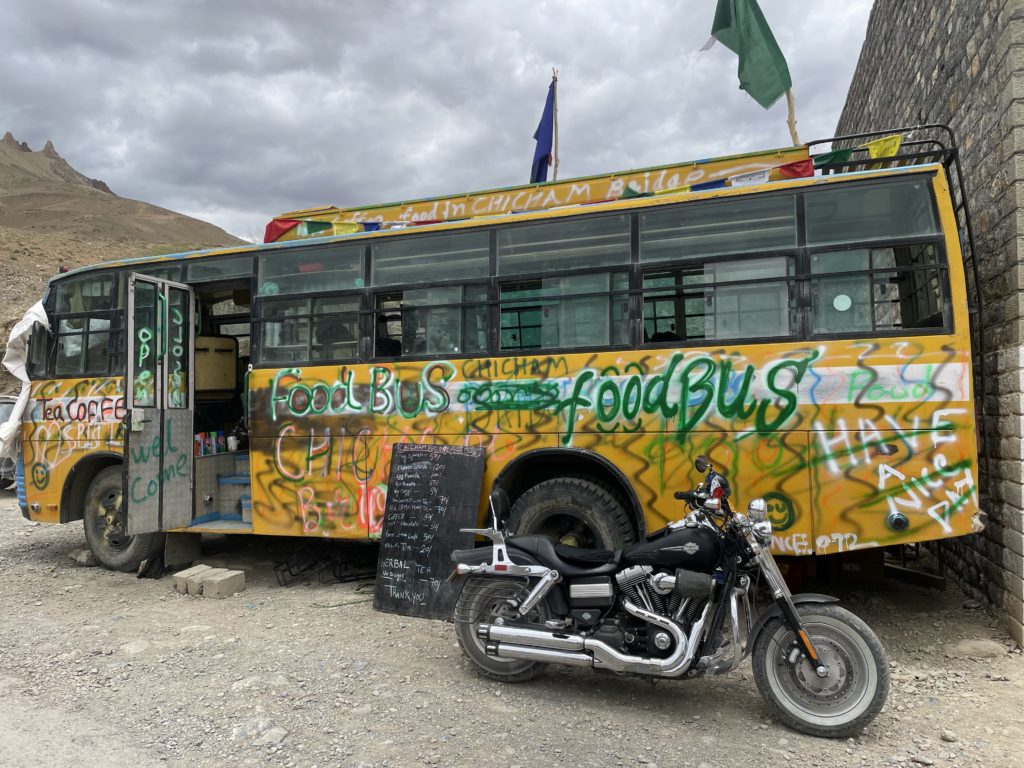 Here we saw an amazing food truck with funky graffiti. So I decided to have good cheese Maggie along with Fresh Lime soda. Refreshed us and we enjoyed the photo session there along with onlookers and the Harley admirers asking questions and having their pics clicked with the HD fat Bob.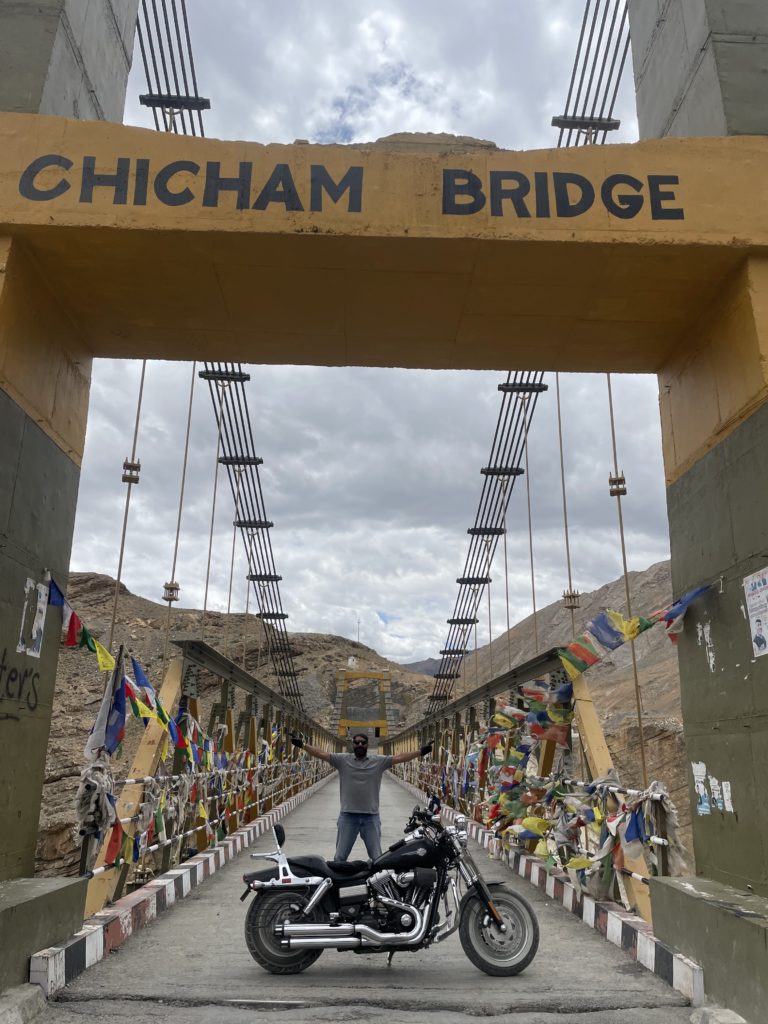 Audience looked at the Harley with Astonishment and were amazed as to how can a rider come solo on such a heavy machine.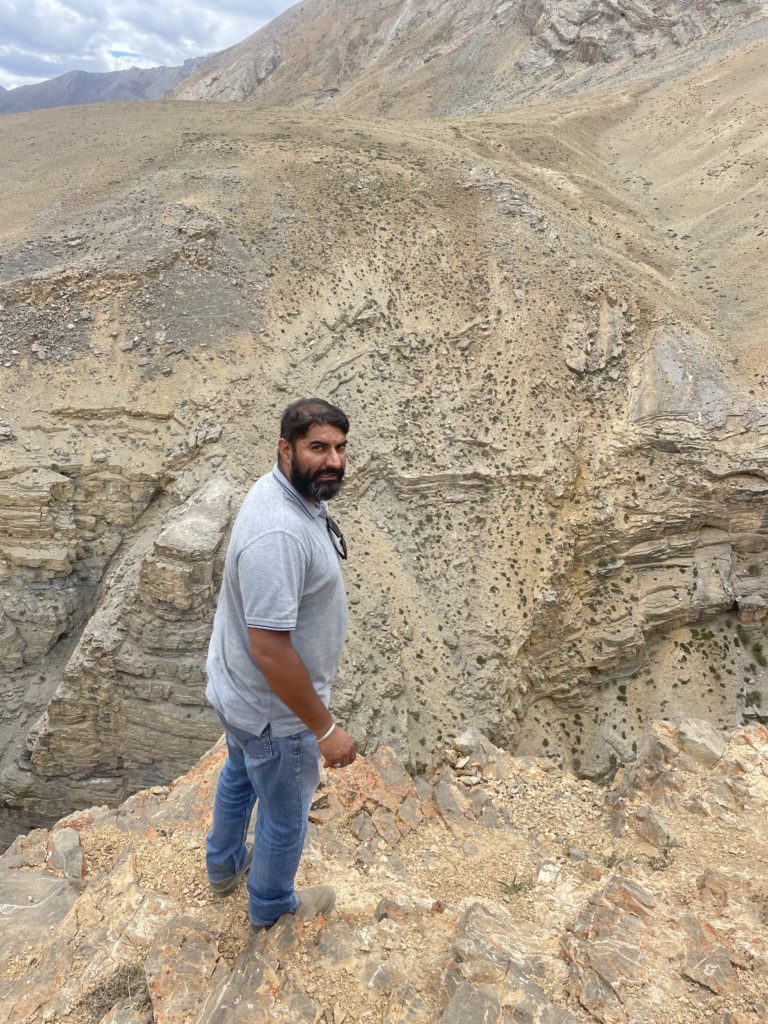 They asked me questions as to wasn't i scared of any snags or technical glitches with the bike. To which I simply replied that I have taken care of my bike for the past 9 years and I am sure it shall take good care of me as well by not troubling me throughout the journey.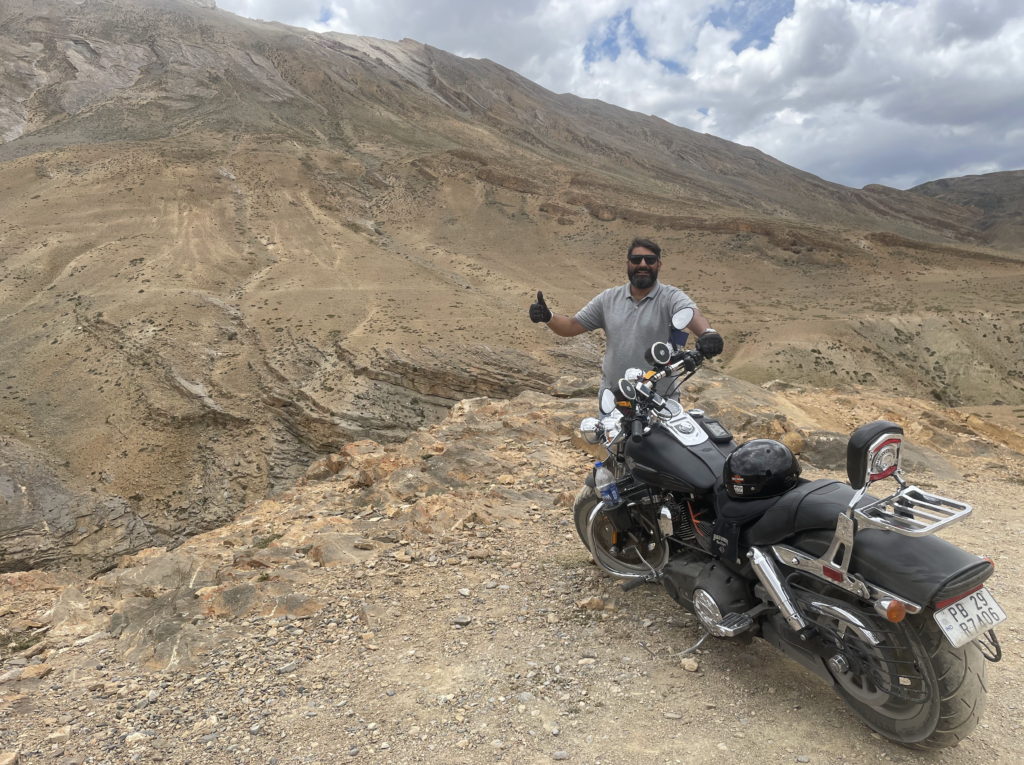 One crazy adventure struck my mind when i saw a distinctive flat feature overlooking a steep cliff.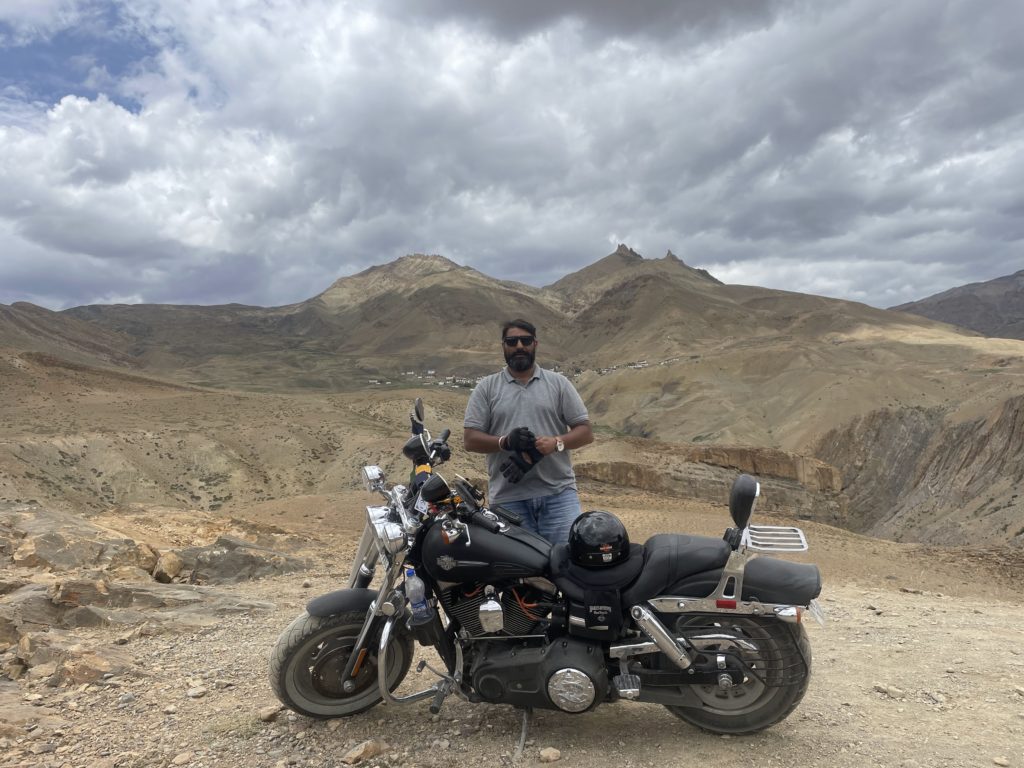 Not scared of heights courtesy my love for Helicopter slithering I decided to take this adventure and took the Fat bob fxdf off track to the Plateau.
On reaching the flat ground dead end I parked my Harley and went to overlook the cliff and it was great fun with the voice echoes on the slightest of sound and it was a fantastic sight to experience though I shall advise against it Lolz.
10th July (Chicham to Sumdo (2 hr 56 min (97.2 km)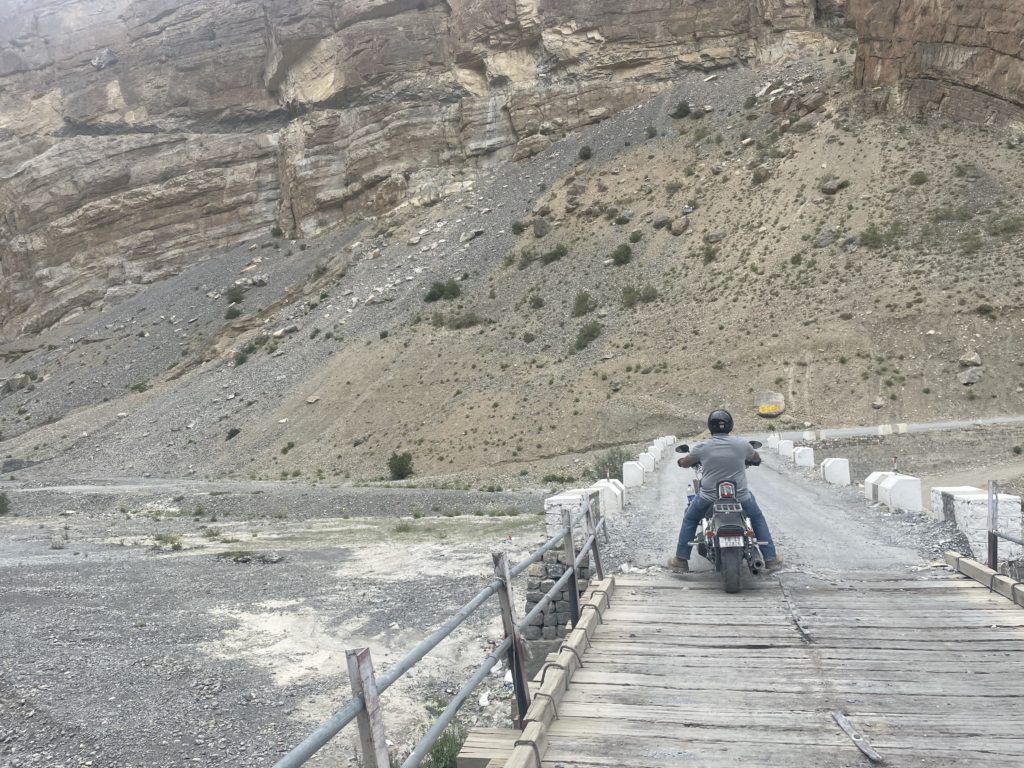 Rode back to Sumdo and the weather was cloudy and in between there were few scary moments of rain drops which are a big indicator to halt or to stay at one's hotel . Better not to move or plan a journey when it rains as it can be dangerous due to land slide and shooting stones along the route. On reaching Sumdo I relaxed and in the evening i went to an undisclosed location where there were Hot Springs . Also known as the Sulphur bath where all kind of body Ailments from cancer to skin diseases to joint pains get cured. The water was amazingly warm and one could easily smell Sulphur. The silver ring and pendants I wore became black within 15 minutes but my gold ring remained as it was. A rare phenomenon for me as I am a commerce Literate and not much aware of chemical reactions so it was like a miracle unfold Infront of me.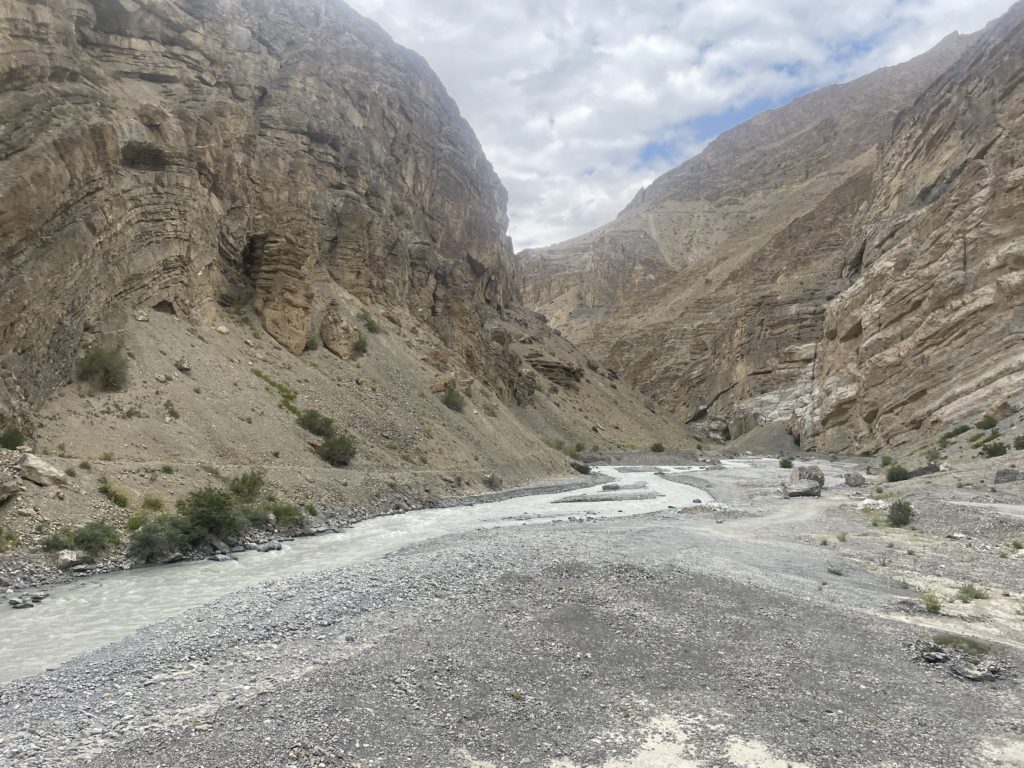 Sumdo to Geu Valley (28 min (10.9 km) 11th July 2022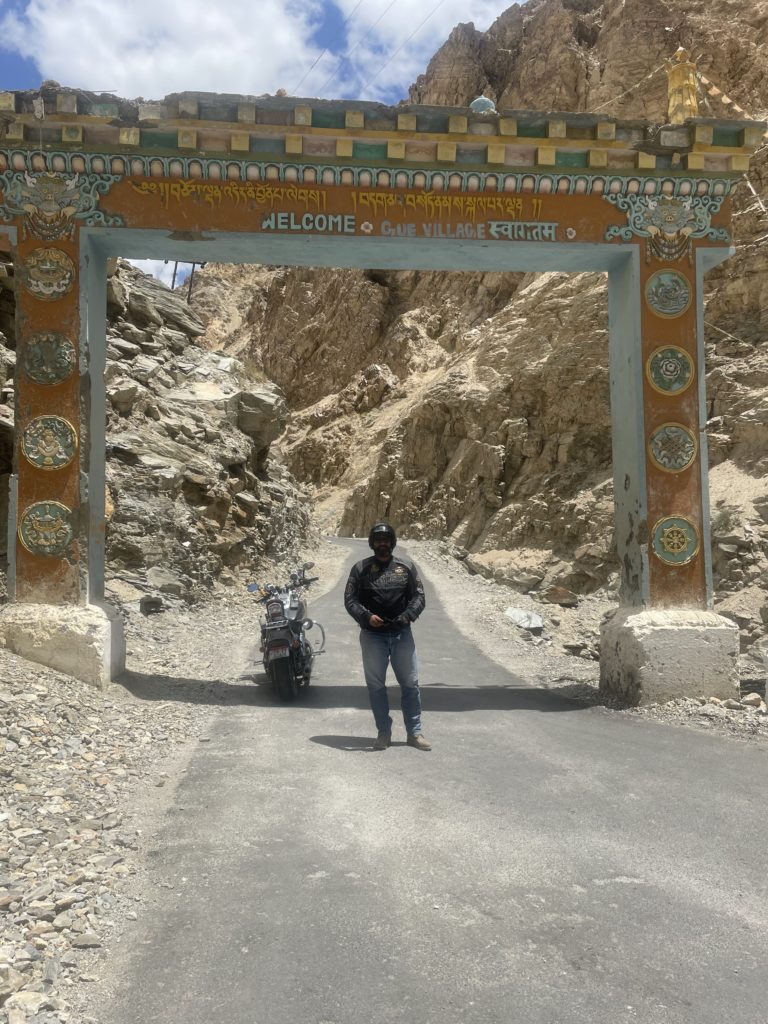 Geu Monastery is located near a small village around 35 Kms from Tabo Monastery and is famous for 500 year old mummy of Sangha Tenzin, a Buddhist monk who is believed to have started his mummification process while he was still alive.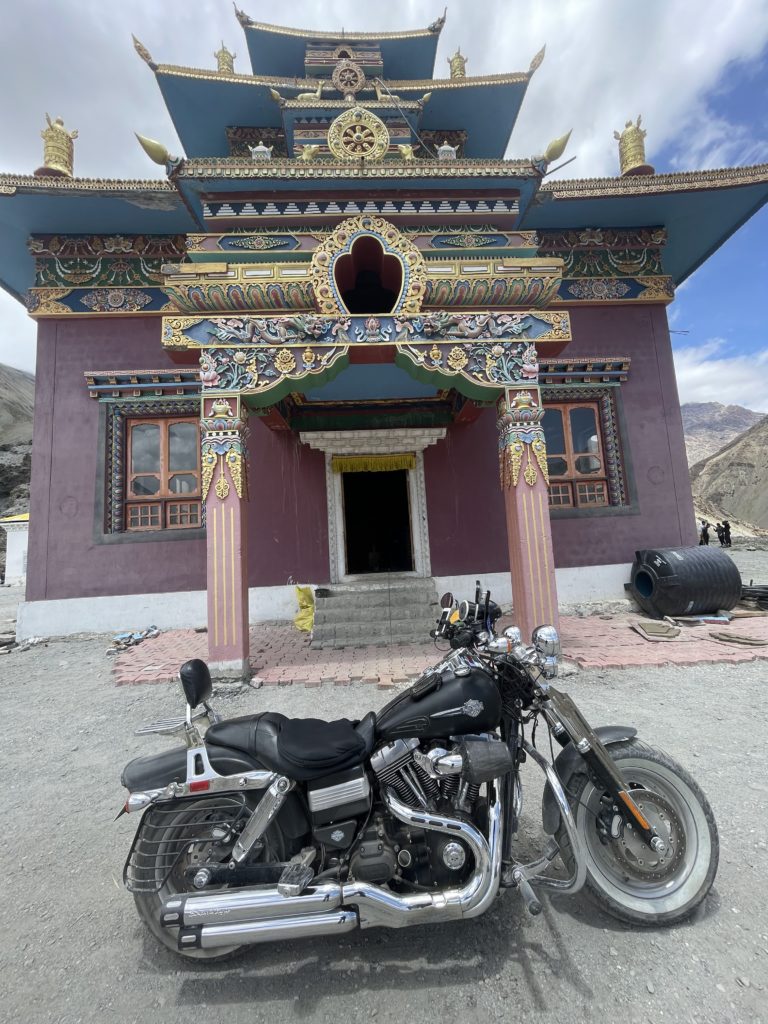 The monastery is located very near the Indo Tibetan border and is surrounded on all side by mountains. This is a very rare example of natural mummification as most mummies read about are mummified by embalming and then being wrapped in linen cloth.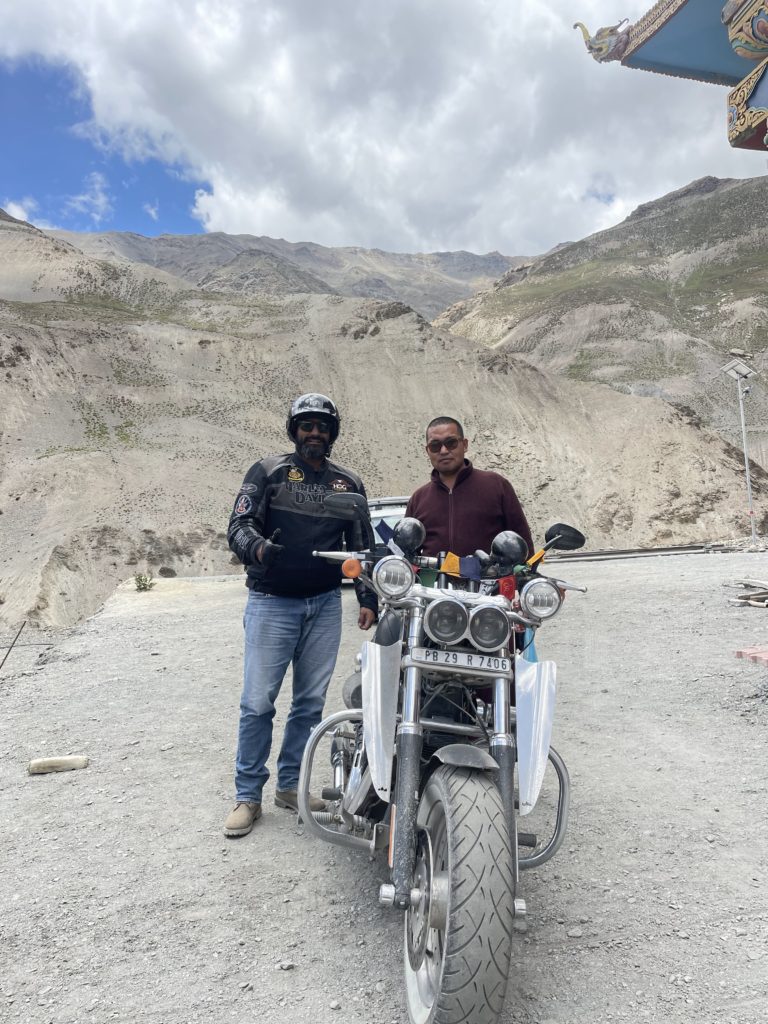 The natural process of mummification is used by monks by slow process of starvation in a seated position. The dead body is then placed in underground chamber for 3 years to continue the drying process.
Only 30 such mummies have been found till date and most on them in Japan. The mummy of Sangha Tenzin is remarkably well preserved with skin and hair intact.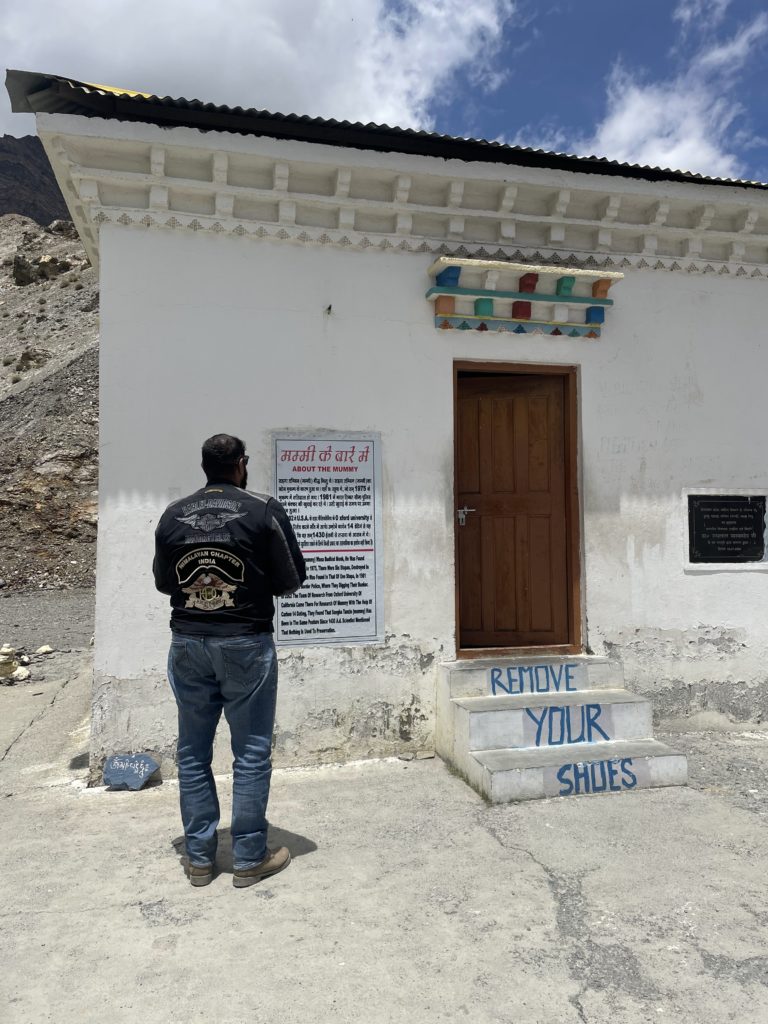 There was a huge earthquake in this area in the year 1975 which opened an old tomb that contained the mummy of monk Sangha Tenzin. The mummy is now kept in Gur monastery. The mummy is remarkably preserved with shin and hair still intact.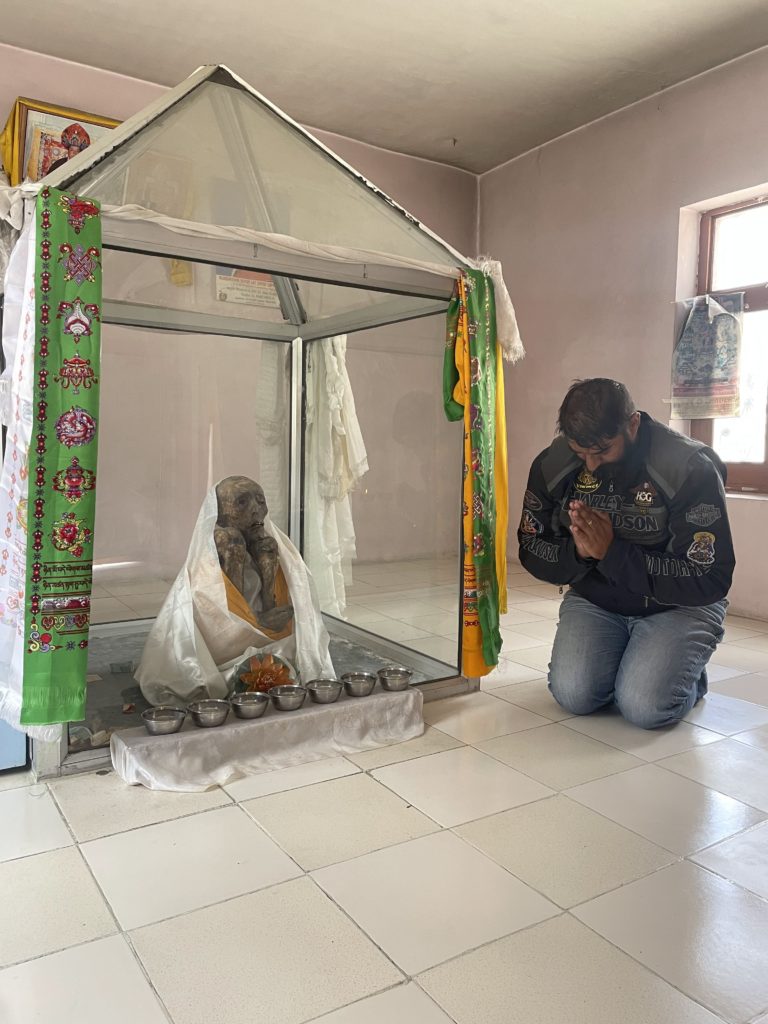 The locals here believe that the monk requested his followers to mummify him during a scorpion infestation of the village and when his spirit left the body, a rainbow appeared and the scorpions disappeared.
Best time to visit the monastery is from June to end of September. On getting my Harley here the Monks were again awestruck and astonished and mesmerized to see the machine made by man and what all it could endure to get a human to a difficult terrain.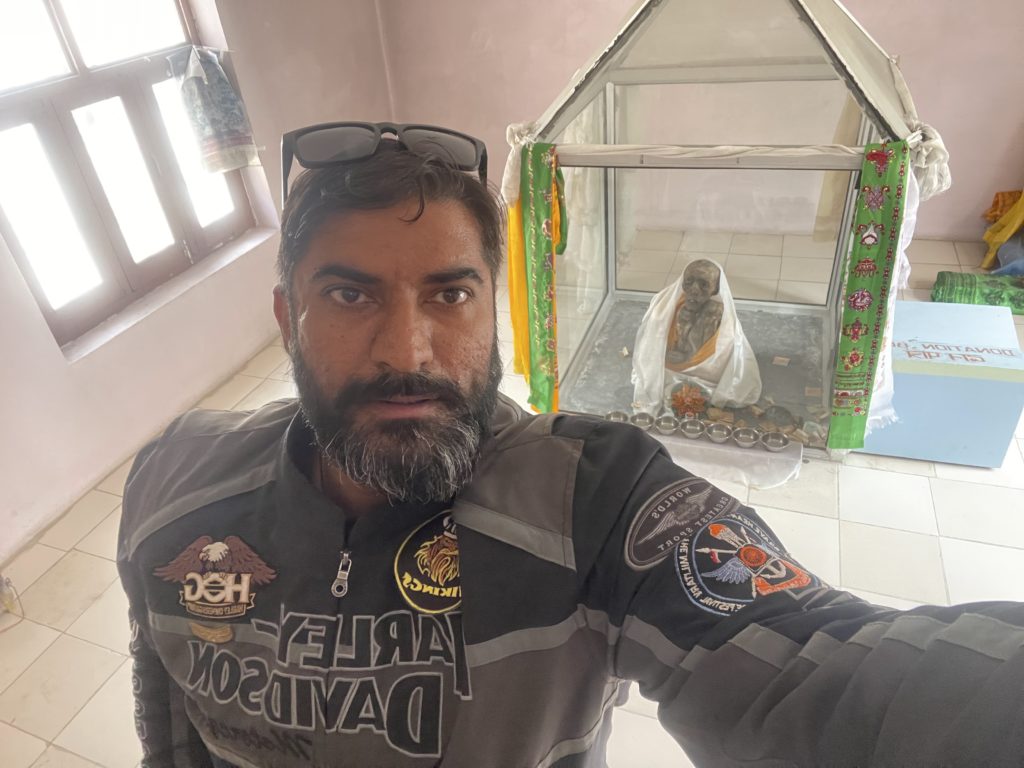 So as a matter of goodwill they conducted a prayer on my bike and blessed it and also tied the holy prayer flag named LUNG TA to my fat bob.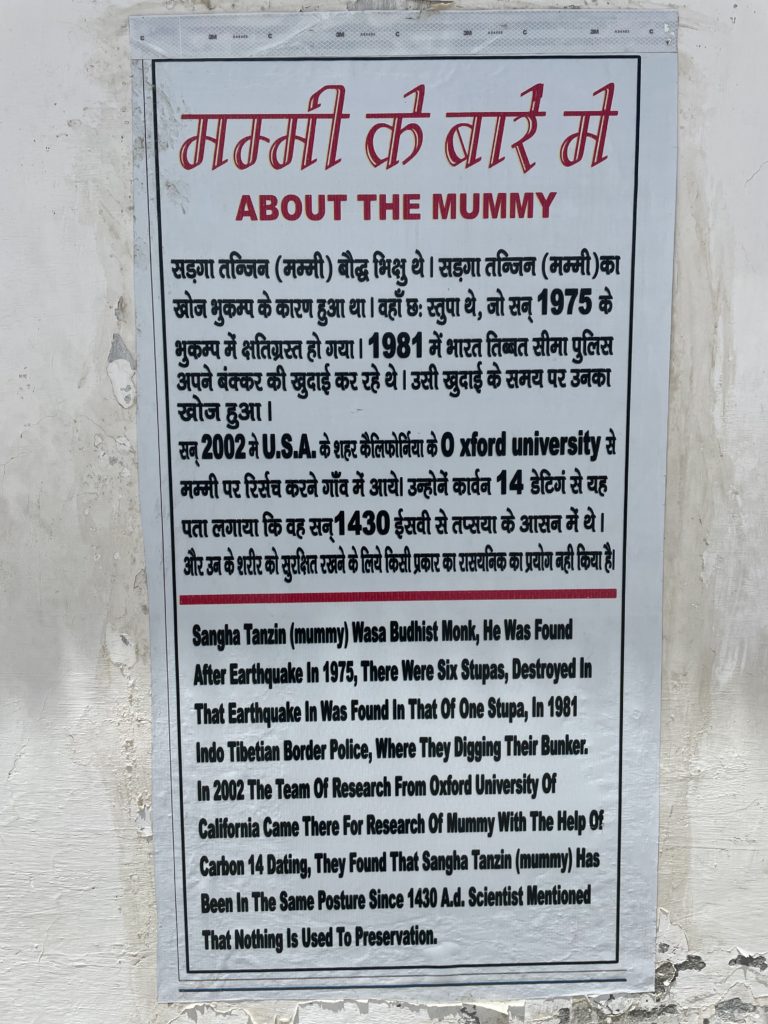 The monastery is still under construction and architects from Nepal have come to construct the statues.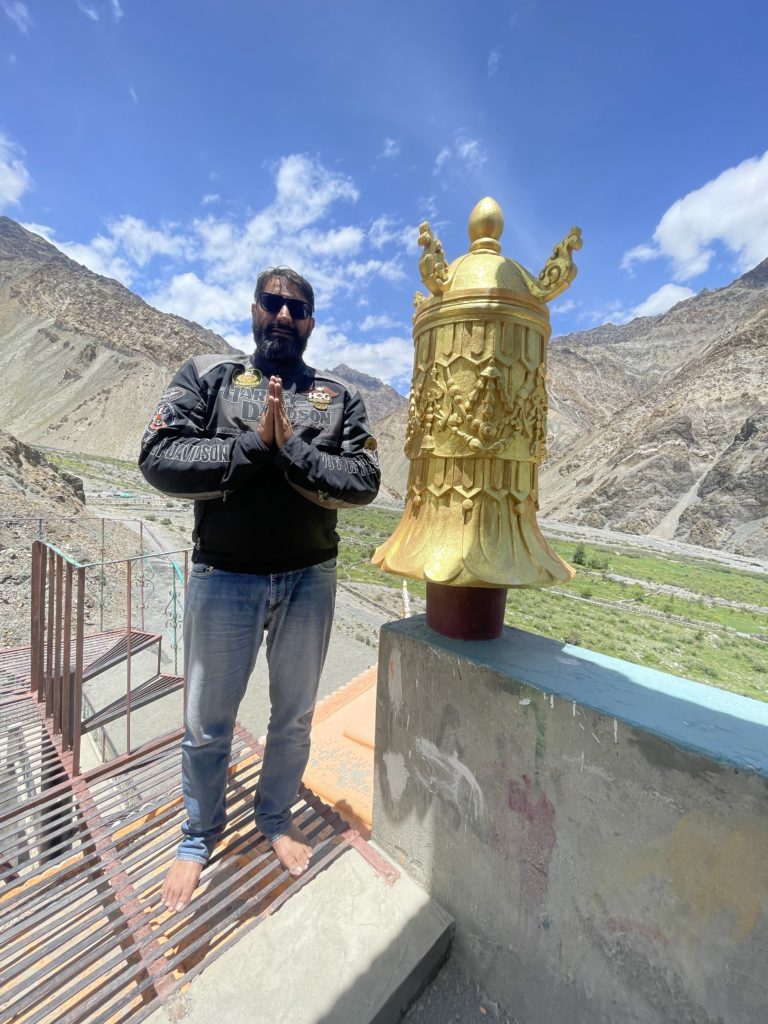 The material used in their clay is a mix of cotton and clay which helps keep the statue they make intact for hundred of years.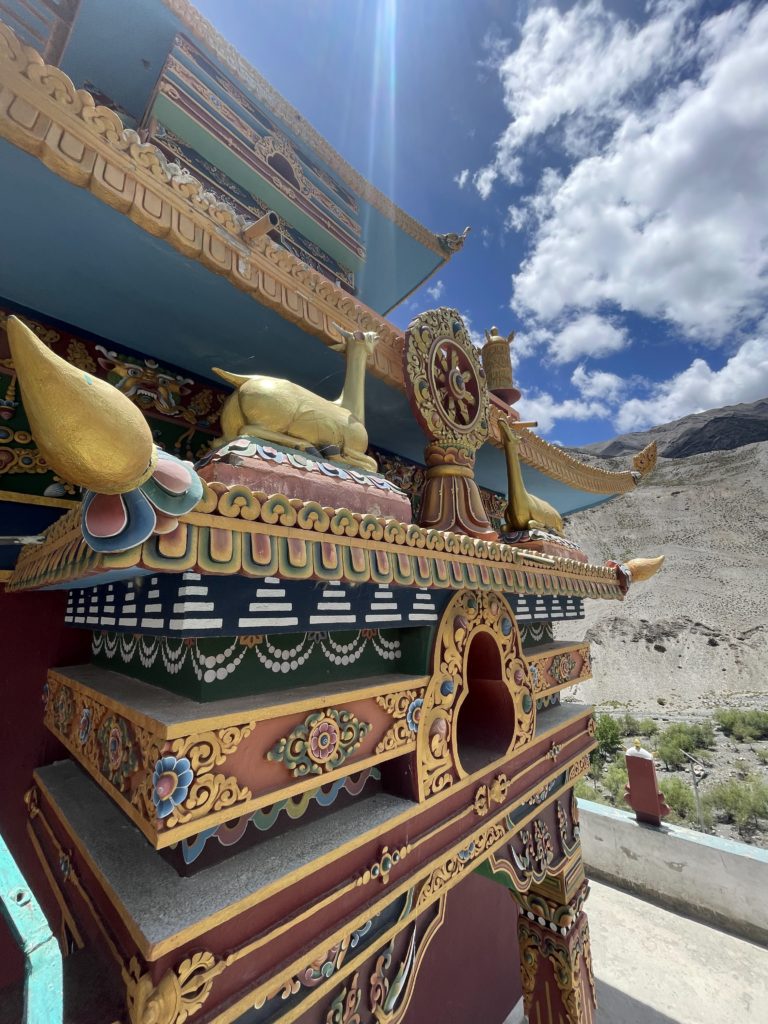 After the holy visit to the Monk Mummy i started back to Sumdo. Had lunch and then proceeded back to Tapri.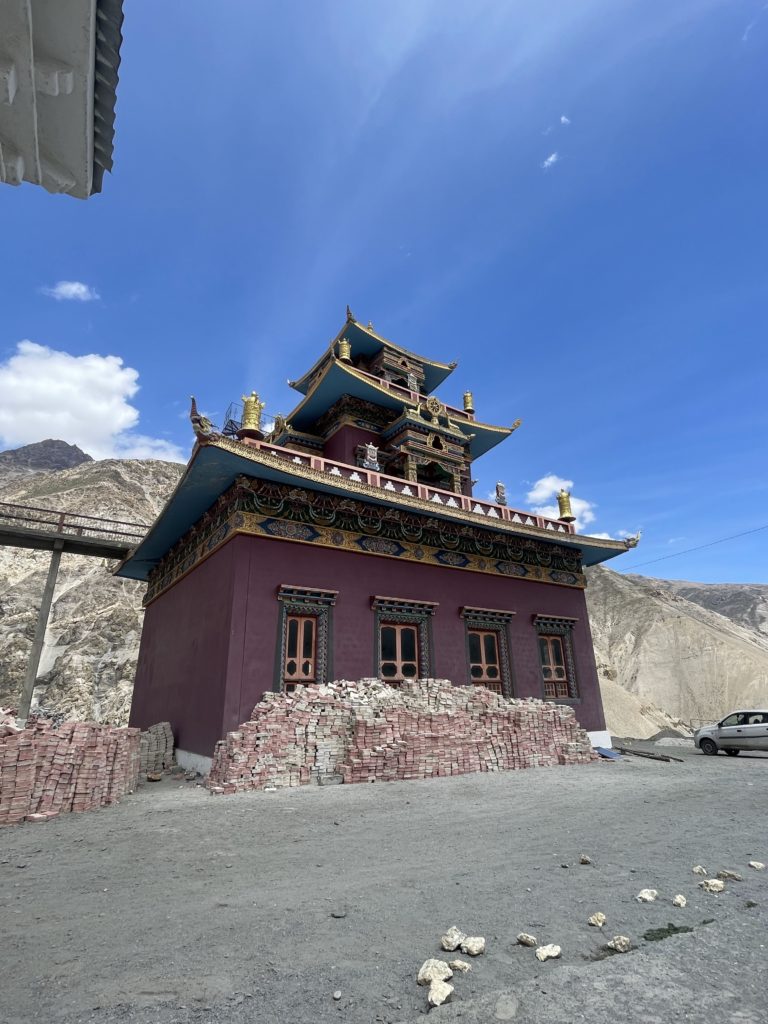 Conclusion Sumdo to Tapri (3 hr 46 min (152 km)
I started back on the 11th of July 2022 from Sumdo to tapri.On my return i met 26 HOGS from Pune city who had hired non Harley bikes to do the same stretch that I was returning from. They instantly recognized me and stopped by to have pics clicked of me with their group. 1500 hrs i had started and approximately i reached back at sharp 1900 hrs to Tapri. It has been an adventure on the edge, where fear of the unknown lurked at every moment.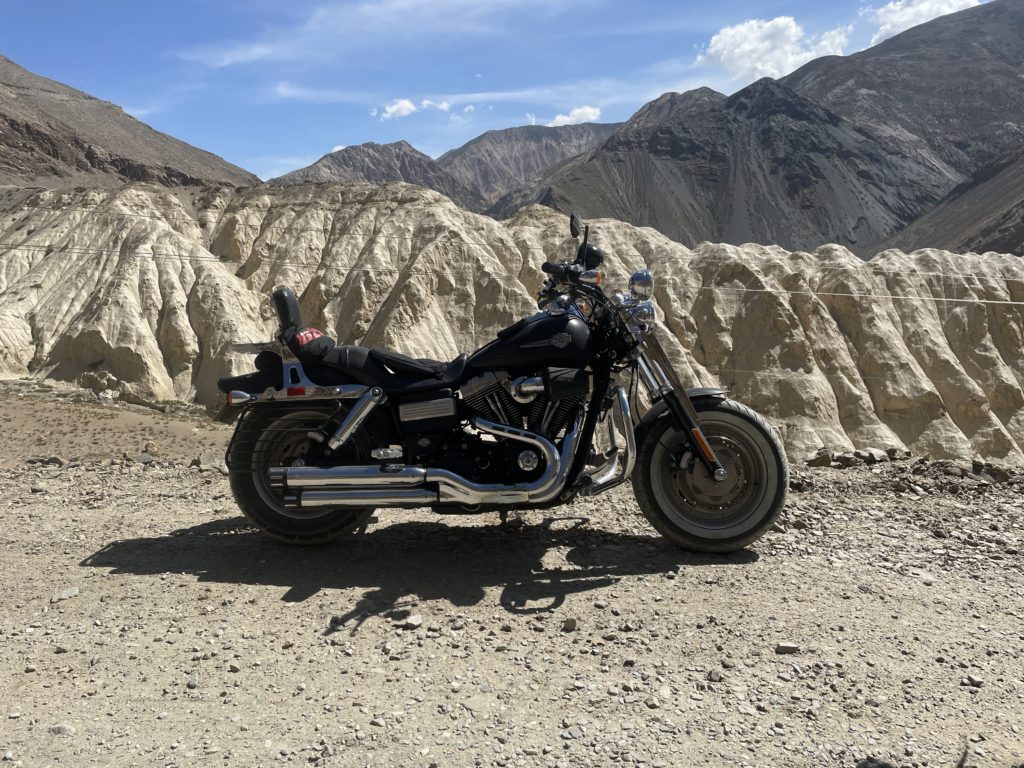 Imagine a mere puncture or a battery issue could have stalled my whole trip with no assistance. 305.0 kg  bike to lift is impossible at such terrains. In the end I take great pride in busting the myth that Spiti trip can only be done on an adventure bike which is just a hallucination now.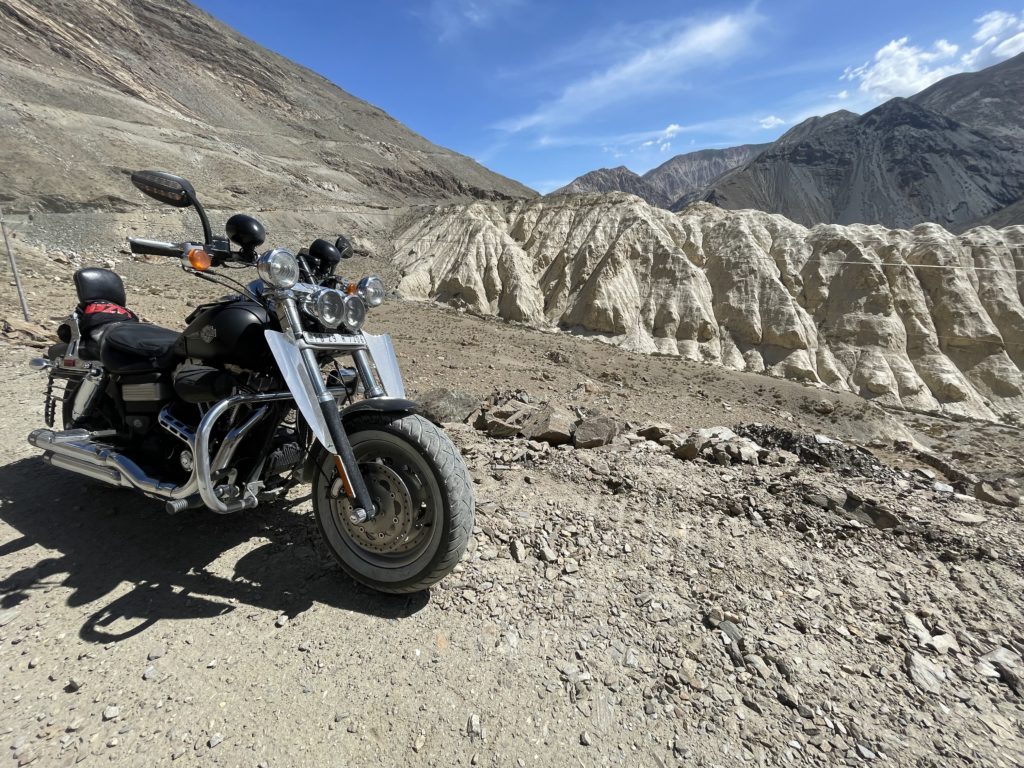 If I can do it so can you. So do not get carried away or avoid such lovely adventures due to the insecurity of breakdowns. Have that faith and self confidence in your machine and in yourself. Learn to fix punctures and ensure your battery health is good and that your brake calipers are good to go for many miles ahead and there is nothing stopping you from experiencing a phenomenal adventure of a life time.
JOBS FILL YOUR POCKET BUT ADVENTURES FILL YOUR SOUL!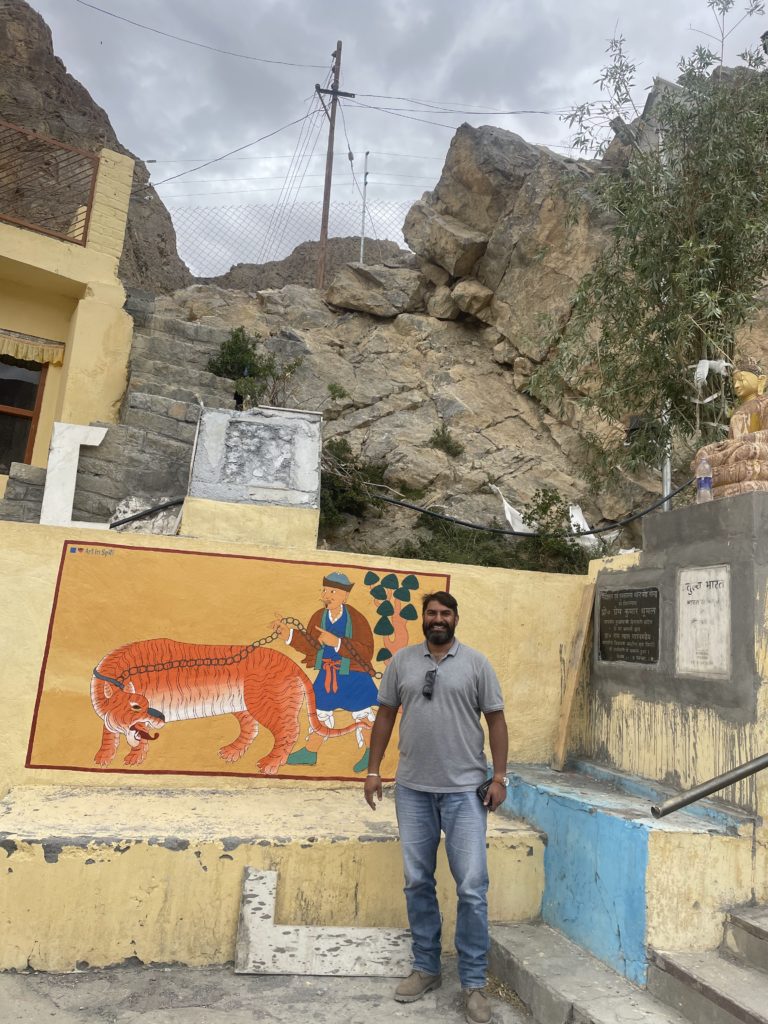 Congrats Samar Toor, thank you for sharing your motorcycle adventures, you are great man and a fantastic rider!!
See ya soon on the road …who knows?!?!,
Hervé your French biker friend.