Post by Motographer Horst Roesler.
# 26 Chief Racer
Racing attitude in Melle/Germany: 2021 Indian Chief Dark Horse conversion in Race Style!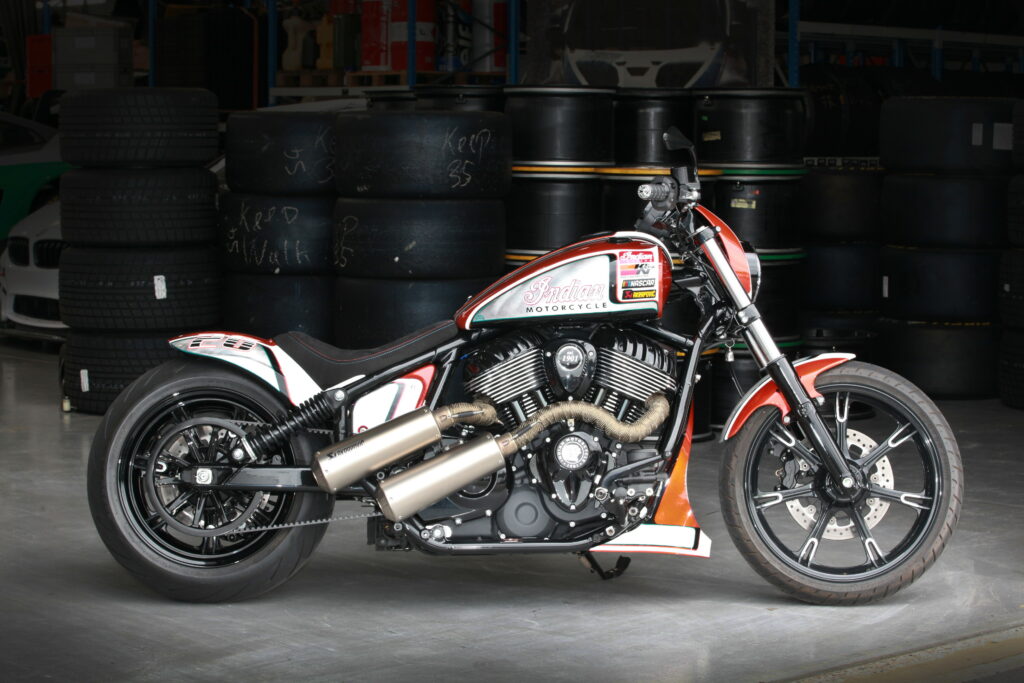 No doubt about that: 35 years of Bike Farm Melle in 2022 also had to be celebrated in the form of an extraordinary custom bike project. For decades, the Bike Farm in Melle has been trumpeting exceptional conversions, customer bikes, restoration projects and, last but not least, sophisticated customer service, making it one of the largest independent Harley stores in Europe. Still in everybody's mind is the spectacular Michael Schumacher Bike of 2001, but "Bike Farm" had handcrafted wo many extraordinary customs in so many different styles, making it one of the most successful independent Harley Dealers in Germany. The thoroughly profiled official Ducati store next door is a "no-brainer" – and in July 2019 Bike Farm Melle added an authorized Indian dealership to its established Melle-based location. Which was a real win-win for both sides. With over 35 years of customizing and custom scene experience, the Bike Farm team brings a know-how that should not be underestimated to the Indian customizing, now gaining momentum. "# 26" is an excellent example of this!
"The idea had been haunting our minds for several years," explains Gerd Remmert, whose passion for long-fork Swedenchoppers and radical custom bike conversions has seen a number of sensational and worldwide recognized bikes roll out of the Bike Farm workshops in recent years, "in fact much longer than we've been authorized Indian dealers and long before the Chief "Dark Horse" was unveiled in 2021…" However, the new tubular frame of the "Chief" sparked off the "go-ahead" for many customizing projects with the new "easy to customize" Indians in February 2021 and was unveiled on the 100th anniversary of the introduction of the original Chief in 1921. The previously used rolling chassis did not necessarily make it easy for customizers to give the very stylish Indian Thunderstroke engine a different look. Beyond manufacturing a full custom frame – burdened in Europe with the usual acceptance and homologation hurdles – the options were somewhat limited. OK, very limited! With the new tubular frame chassis, Indian now also offers a simpler and faster to be customized version of frame for the superb retro-styled engine which also received a displacement boost. With a closer look at "#26": This radical conversion is not soooo far away from the stock product as it looks.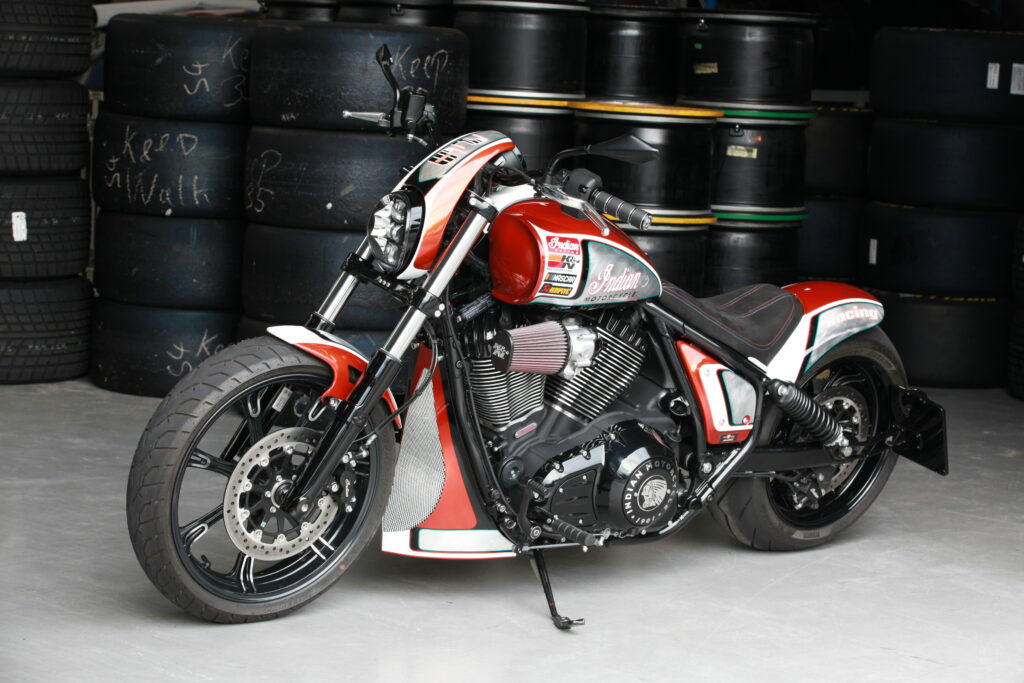 Bike Farm and Indian Motorcycles Melle Managing Director André Schulz has a point: "The last two years were probably no reason for anyone to celebrate, but we have come through the COVID period well despite some, often tragic, personnel changes." Less than half a year after taking over the Indian dealership, "Bike Farm Melle" already achieved the "Gold Master Elite Class" status for best possible technical service – in February 2020. What followed, most still know from their own experience: Covid! Accordingly, all plans for a big Bike Farm "Pow Wow" for the upcoming 35th company anniversary in 2022 were "on hold". Until 2021, when the new "Chief" with the tube frame was presented. The summer of 2021 already showed a slight easing of the situation – and in 2022 there were again German events for "Indians" and Indian Riders. Not only abroad, as the great Indian Riders Fest in Budweis/Czech Republic, but in Germany too: The 1st Indian Motorcycles Riders Group Festival in the Thuringian Forest near Schalkau was the destination of the Melle Indian Riders, but also the premiere of the first radical Chief conversion of Bike Farm Melle: It was here that the cover was lifted from "# 26"
"With this conversion we wanted to show the potential of the new Chief and the new frame without reaching too deep into Bike Farm's bag of tricks," explains André Schulz, "after all, this machine should make two points clear: It is possible to use the stock chassis for great custombikes WITHOUT sinking a utopian budget into labor time for the build." What the Bike Farm's metal shop is capable of has been more than convincingly demonstrated over the past 35 years – MS-1, 2-Die-4, "Personal Jesus", Nordkap-riding Swedenchoppers and the "STP Knuckle". After all, if you subtract the hand-hammered sheet metal body panels, you're left with the stock frame and stock engine. Well, almost!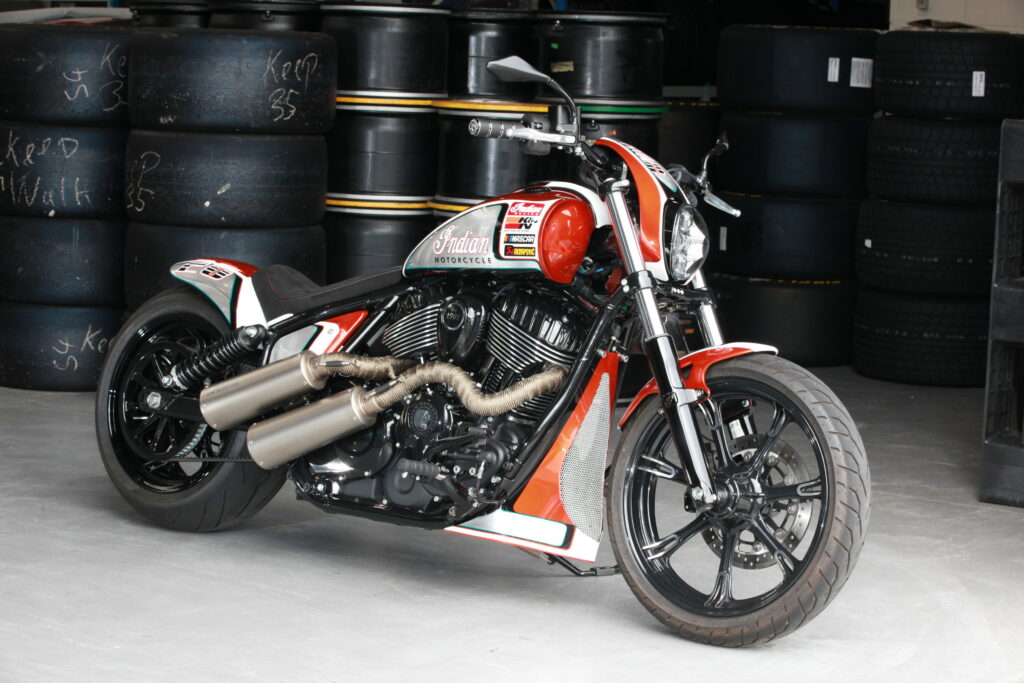 What sounds simple in retrospect was the real starting and sticking point of the conversion: How much rubber fits into a stock "Chief" swingarm? After careful measuring and calculation, the team had the answer: a 240 on 8-inch rim widths. With the stock swingarm, frame, engine and transmission – the latter forming a compact unit on the Thunderstroke – this could be achieved with a 12 mm outward offset transmission pulley. The widening of the rims of a standard Indian wheel, which was carried out by the wheel specialist Rindt-Felgen in Oberhausen, is somewhat more complicated. The "trick" of the renowned wheel customizer can only be seen when comparing front and rear wheel rims: laterally applied extensions result in the desired eight inches – and the stock wheel diameter of the actual 16-inch wheel was enlarged to 17 inches. Now "#26" was on its way to the race track. Pirelli's front and rear provide the appropriate grip to the asphalt.
In the meantime, the pencils were already glowing hot in the Bike Farm while sketching all ideas: Of course, "#26" is a dragstyle-inspired custombike, as evidenced by the forward-mounted foot controls and low seating position. The fact that since 2020 the "King Of The Baggers" series has become a real hit with race fans in the USA – and is now also being imitated in Germany – is pure coincidence. After all, since their revival by Polaris, the "new" Indians have been successful primarily in dirt track – and now also in Bagger races on US race tracks. When the original Indian factory closed its doors in Springfield in 1953, Drag Racing was still in its "infancy", with motorcycles participating in illegal sprint racing on remote country roads outside the major cities. Anyway, the then xisting sidevalve Chief engines, even as Indian finally packed 80 cubic inches into the Chief models, there was no trophy to be won, even as Indian could look back on a very successful racing history in many fields. In fact, it wasn't until 1953 that the AMA held the first "legal" motorcycle drag race in Pomona, California.
Even in its 116 cubic inch/1.890 cc version, the "Thunderstroke" is not necessarily a powerplant for the dragstrip – there are other calibers in this range – but with 162 Nm and 88 standard horsepower, the engine is quite suitable for a traffic light sprint. Especially if you let a few more horses gallop on the dyno at the Bike Farm: Akrapovic exhaust system and K&N air filter help the cause. The thoroughly styled design skillfully integrates some stock parts: The tank is widened by laterally attached plates and looks as if it has "air intakes" on the right and left – which turns out to be a pure stylistic device in the front view. The spoiler covers the front frame, but still allows enough cooling air to pass through to the engine and regulator. Particularly sweeping is the handcrafted headlight fairing, which, beyond the shortened risers, also covers the stock instruments mounted on the handlebar clamp. The headlight shows that even parts of a series Harley fit stylistically to an Indian conversion: This comes from a "Breakout" and fits very harmoniously into the overall picture.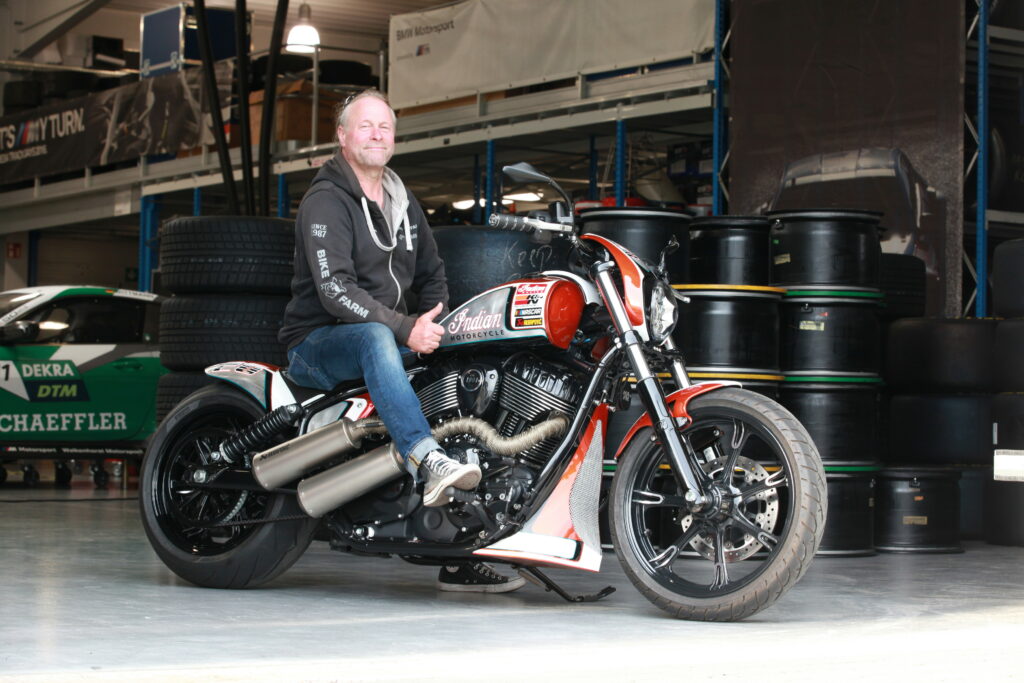 Particularly much "heavy metal" is found in the handmade tail section, which looks particularly "clean" featuring recessed Kellermann LED lights and also neatly frames the seat. According to the motto "twice illuminated you see better", turn signals and taillight / brake light inserts are "conventional" and not installed as a 3-in-1 option. Tail & brake light are thus doubled, which guarantees additional safety especially in the case that rain and dirt would be deposited on the fender! Details such as the sideways license plate additionally tidy up the look. The spectacular paintjob with partly visible "brushed" metal surface was staged by AHA-Design Alex Henkemeier: Instead of the bare metal, Alex relied on silver leaf coating and thus obtained a uniform base for all parts, which was later covered with House of Kolor Candy Orange as a three-coat paint. For contrast, a pinstriping line is held in "Petrol" color. Graphics and "sponsor" logos are super-detailed and the "secret" to the #26 race number? If you know a little about number codes and the alphabet, you can count to six – and recognize the abbreviation behind the number. Also as "Indian Motorcycle Melle" the Bike Farm Team remains "on top" in terms of customizing. Now with an additional brand: A win-win situation for both…
Text & Fotos: HRF, Special thanks to Walkenhorst Motorsport in Melle/Germany for the fitting "sportive" BMW Touring Race Series workshop location!
xxxxxxxxxxxxxxxxxxxxxxxxxxxxxxxxxxxxxxxxxxxxxx
TECH FACTS
General:
Name: # 26 Indian Racer
Owner: Bike Farm/Indian Motorcycle Melle
Location: Melle / Germany
Assembly: Bike Farm/Indian Motorcycle Melle
Year: 2022
Time: 300 hours
Finishishing date: June 2022
Model: "Chief Racer"
Value: Already sold, sorry…
Other: A decade old idea finally realized!
Motor/Engine:
Year: 2021
Lower end: Stock Indian Thunderstroke
Crankshaft: Stock Indian
Cylinder: Stock Indian
Pistons: Stock Indian
Displacement : 1.890 cc (116 Cubic-Inch)
Con Rod: Stock Indian
Heads: Stock Indian, modified by Bike Farm
Valves: Stock Indian
Pushrods: Stock Indian
Camshaft: Stock Indian
Carburator: Stock Indian Fuel Injection
Air cleaner: K&N
Ignition: Stock Indian, electronic injection
Pipes: Bike Farm Melle
Mufflers: Akrapovic
Horsepower (hp): approx. 88 hp, 162 Nm, Racing modus available!
Other: Mapping on Bike Farm in-house dyno
Transmission:
Year: 2021
Type: Stock Indian
Gears: 6-speed
Shifting: Foot
Primary Transmission: Stock Indian
Clutch: Stock Indian
Secondary transmission: Belt Drive, Stock Indian
Other: front Belt Pulley at gearbox approx. 12 mm offset
Frame; Brakes:
Frame: Stock Indian Chief "Dark Horse"
Year: 2021
Rake: Stock Indian
Stretch (Shortage): —
Other: —
Swinging arm: Stock Indian, no modifications for wide tire necessary
Shock absorbers: Wilbers
Fork: Stock Indian
Type: Stock Indian
Stretch: —
Other/Autres/ovenig/Altro/Outros: —
Wheels:
Front:
Size: Stock Indian 19 x 3.5''
Hub: Stock Indian
Spokes: Stock Indian, Cast wheel
Tyre: Pirelli Night Dragon 130/60 B19
Rear:
Size: 17 x 8'' widened by Rainer Rindt
Hub: Stock Indian
Spokes: Stock Indian, Cast wheel
Tyre: Pirelli Rosso 240 45 ZR 17
Brakes:
Front:
Disk(s): Stock Indian
Caliper(s): Stock Indian 4-piston caliper
Rear:
Disk(s): Stock Indian
Caliper(s): Stock Indian 4-piston caliper
Other: —
Accessoires:
Riser: Stock Indian, integrated speedo, modifiied (shortend) by Bike Farm
Bars: Bike Farm
Mirrors: Highsider
Grips: Stock Indian
Pegs:
Front: Indian, modified
Rear: —
Gas Tank: Bike Farm/Indian Motorcycle Melle, Tankdash modified & painted
Seat: Bike Farm/Indian Motorcycle Melle
Oil-tank: Stock Indian
Fenders:
Front: Bike Farm/Indian Motorcycle Melle
Rear: Bike Farm/Indian Motorcycle Melle
Other: —
Electrics:
Headlight: HD Breakout headlight, fairing by Bike Farm/Indian Motorcycle Melle
Taillight: Kellermann/LED in rear fender left and right
Indicators: Kellermann/LED in rear fender left and right
Wireing: Stock Indian, modified by Bike Farm/Indian Motorcycle Melle
Other: —
Painting:
Idea: Gerd Remmert, Bike Farm
Painter: By a friend
Base laquer: AHA-Design, www.farbzination.de, Alexander Henkemeier Artworks
Colour/: Silver leaf, smoothened and "grinded", colors in Candy Racing-Orange and "Petrol"
Pinstripe contrast
Airbrush Art/Design: House of Kolour
Other: Indian Race Sponsors, K&N NASCAR, Akrapovic, Indian Racing, Startnumber # 26
Adress:
Indian Motorcycles Melle / Bike Farm Melle
Industriestraße 24a
49324 Melle / Germany
Kontakt
Telefon:  +49-5422-926080
Fax : 05422 / 9260829
www.indian-melle.de
xxxxxxxxxxxxxxxxxxxxxxxxxxxxxxxxxxxxxxxxxxxxxx
INTRO TEXTS & CAPTIONS
I n record time, Bike Farm Melle has achieved the status of one of the most sucessful Indian Dealers in Germany, now underlined by extraordinary Indian-based Custom projects! #26 is a great "Bike Farm Anniversary" project which is close to the stock Chief.
T he new tube frame of the Indian Chief Bobber finally cut loose the creativity of many customizers that felt restricted my the cast aluminum frame which for a long time was the Indian trademark. Bike Farm Melle kept frame and swingarm in stock configuration but still built a great custom!
U pgraded to 116 Cubic Inch / 1.890 ccm displacement, the "Thunderstroke" motor delivers a stock 162 Nm and 88 horsepower, from a great looking base! The style of the V-Twin is reminiscent to Indian's classic Sidevalve, yet it incorporates latest technology and follows modern emission regulations!
S uper detailed sheet metal work combined with the excellent paintjob by AHA-Design are visible even in the very last detail: Kellermann LED are integrated into the metalwork of the fender structure, the "brushed metal" surface is applied silver leaf under clear coat.
D espite its antique look – not to mention the "classic" Indian heads all over the motorcycle – the Thunderstroke has been developed with the most modern construction software and is continuously updated to meet new restrictions. Still, plenty of power is available!
I n the more than 35 years history, Gerd Remmert of Bike Farm Melle has comissioned numerous high-end show winning custombikes. Now, as official Indian dealer, it is expected that the Bike Farm story will continue, but a new chapter has already started!
Front view of the
handcrafted metal cover for
the Harley-Davidson
"Breakout" headlight.
Low and compact, the benefits of the new Chief frame and swingarm are clearly visible: Shocks and frame for a clean line and the engine is a integral part of the design.
Akrapovic exhaust system with wrapped pipes
Left engine side.
The metal fender is covered with silver leaf by AHA-Design.
Perfect Racestyle with attitude: Both the sheet metalwork as well as the wrapped exhaust with spring-mounted mufflers add up to a cool ride!
Looks like a sidevalve, runs like hell: The 116 Thunderstroke Motor.
Controls ans switches remained stock. The "Chief Racer" retains all functions of the stock motorcycle and has added some stylish Indian grips.
Indian acessory grips
#26 was a fitting theme for Bike Farm's 35th anniversary Custom, the lettering standing for "BF" alias "Bike Farm".
Ready to ride! Bike Farm Melle again created a stunning custom motorcycle!
AHA Design created the outstanding paintjob with all imaginary "Sponsor Logos" painted!
Fuel injection at the left side with K&N air filter.
The fully handcrafted tailend with matching color seat stitching.
Superb sheet metal integration and a super-detailled paintjob by Alexander Henkemeier Artworks aka AHA Design.
AHA Design
meets
Bike Farm Melle
Adress:
https://www.farbzination.de
AHA Design
Alexander Henkemeier Artworks
Am Stadtholz 38
33609 Bielefeld / Germany
Tel:+49 – (0) 521 – 78 79 74 12
Mobil:+49 – (0) 1 71 – 817 89 23
kontakt [a] farbzination.de
Gerd Remmert & Alexander Henkemeier of AHA
Front fender follows the general theme of the graphics…
…which is continued on all body parts and even into the color of the seat stitching!
The repeated #26 theme over Sliver Leaf base fine "sandpapered" for a sheet metal look…
…and all details are painted exactly to brand specific colors.
What's Next?
EUROPEAN BIKER
BUILD-OFF
WINNER 2022
Bike Farm Melle founder Gerd Remmert is excited about the victory of his team at the 2022 European Bike Build Off at CUSTOMBIKE. His efforts had paid off, as in just two months time, the team had VG Motorcycles designing and building a rigid frame for the stylish Indian Thunderstroke motor – and sacrificed a complete Scout Bobber to create this unique Swedenstyle Chopper in day and night overtime!
Squeezing the full electronics of the Chief Bobber into a rigid frame was the Bike Farm's worst nightmare! The bike has functioning ABS, the options for navigation and heated grips are still available. All components but the drive train had to be designed and build by the Bike Farm team, including the paintjob, because AHA could not paint both bikes. The visitors voted for the winner until Sunday. And the result was quite clear for the team from Melle!
What's Next?
UNDER CONSTRUCTION
V G-Motorcycle frames is also part of the Custom Scene for decades. Guus Hoogland, creator of many custom and stock exchange frames is now concentrating more on "special projects", closer to his heart than mass production. At CUSTOMBIKE – guest at the BIKE FARM MELLE booth – he introduced a solid wide tire rigid frame for Milwaukee Eight conversions and a stylish rigid frame for Indian's Thunderstroke Twin, also used in Bike Farm Melle's Build-Off Winner.
xxxxxxxxxxxxxxxxxxxxxxxxxxxxxxxxxxxxxxxxxxxxxx
Technische Daten
Allgemeines:
Name/Bezeichnung: # 26 Indian Racer
Besitzer: Bike Farm/Indian Motorcycle Melle
Ort: Melle
Auf-/Umgebaut von: Bike Farm/Indian Motorcycle Melle
Jahr: 2022
Bauzeit: 300 h
Fertigstellung: Juni 2022
Modell: "Chief Racer"
Wert: Leider schon verkauft…
Sonstiges: Eine Idee die seit zehn Jahren auf Realisation wartete
Motor:
Baujahr: 2021
Block: Serie Indian, Thunderstrtoke
Kurbelwelle: Serie Indian
Zylinder: Serie Indian
Kolben: Serie Indian
Hubraum: 116 Cubic Inch / 1.890 ccm, 162 Nm, 88 PS
Pleuel: Serie Indian
Zylinderköpfe: Serie Indian
Ventile: Serie Indian
Stößel: Serie Indian
Nockenwelle: Serie Indian
Vergaser: Serie Indian Einspritzung
Luftfilter: K&N
Zündung: Serie Indian, elektronisch
Krümmer: Bike Farm Melle
Endtöpfe: Akrapovic
Leistung: Serie 88 PS, im Race-Modus ein paar Pferde mehr…
Sonstiges: Mapping auf hauseigenem Prüfstand
Übersetzung/Getriebe:
Baujahr: 2021
Typ: Serie Indian
Gänge: 6
Schaltung: Fuß
Primärantrieb: Serie Indian
Kupplung: Serie Indian
Sekundärantrieb: Belt Drive
Sonstige Bemerkungen: Vorderer Belt Pulley Getriebeausgang ca. 12 mm nach außen versetzt
Fahrwerk:
Rahmen: Serie Indian Chief "Dark Horse"
Baujahr: 2021
Lenkkopfneigung: Serie Indian
Verlängerung(Verkürzung): —
Sonstige Umbauten: —
Schwinge: Serie Indian, keine Modifikationen für Breitreifen notwendig
Stoßdämpfer: Serie Indian
Gabel: Serie Indian
Hersteller: Indian Motorcycles
Verlängerung: —
Sonstiges: —
Räder:
Vorne: Serie Indian
Größe: 19 x 3.5"
Nabe: Serie Indian
Speichen: Serie Indian Gußspeichen
Reifen: Pirelli Night Dragon 130/60 B19
Hinten:
Größe: 17 x 8" verbreitert von Rainer Rindt
Nabe: Serie Indian
Speichen: Serie Indian Gußspeichen
Reifen: Pirelli Rosso 240 45 ZR 17
Bremsen:
Vorne:
Bremsscheiben: Serie Indian
Bremszangen: Serie Indian Vierkolbenzange
Hinten:
Bremsscheiben: Serie Indian
Bremszangen: Serie Indian Vierkolbenzange
Sonstige Bemerkungen: —
Accessoires:
Riser: Serie, mit Tacho integriert, modifiziert (gekürzt) von Bike Farm
Lenker: Bike Farm
Spiegel: Highsider
Armaturen & Griffe: Serie Indian
Fußrasten:
Vorne: Indian, modifiiert
Hinten: —
Tank: Bike Farm/Indian Motorcycle Melle, Tankdash modifiziert & mitlackiert
Sitzbank: Bike Farm/Indian Motorcycle Melle
Öltank: Serie Indian
Schutzblech:
Vorne: Bike Farm/Indian Motorcycle Melle
Hinten: Bike Farm/Indian Motorcycle Melle
Elektrik:
Lampe vorne: Breakout Lampenverkleidung Bike Farm/Indian Motorcycle Melle
Rücklicht: Kellermann's LED, integriert in Fender rechts und links
Blinker: Kellermann's LED, integriert in Fender rechts und links
Kabelbaum: Serie Indian, modifiziert von Bike Farm/Indian Motorcycle Melle
Sonstiges: —
Lackierung:
Idee: Gerd Remmert
Ausführung: AHA-Design, www.farbzination.de, Alexander Henkemeier Artworks
Basislack: Blattsilber geglättet und "angeschliffen", mit Candy Racing-Orange und "Petrol" Pinstripe als Kontrast
Farbe: House of Kolour
Airbrush-Gemälde & Design: Indian Race Sponsoren, K&N NASCAR, Acrapovic, Indian Racing, Startnummer # 26
Adresse:
Indian Motorcycle Melle / Bike Farm Melle
Industriestraße 24a
49324 Melle
Kontakt
Telefon:  +49-5422-926080
Fax : 05422 / 9260829
www.indian-melle.de