Harley-Davidson has always been pictured as a company that lives in the past and changes slower than glaciers melt. But the company stunned the industry in 2014 with its customer influenced Project RUSHMORE bikes. Then they launched the smaller liquid-cooled Street 750 and Street 500 motorcycles sent a buzz around the world with the introduction of Project LiveWire, Harley's first electric motorcycle prototype.
For 2015 the company listened to those riders who said they were riding a little too high on the hawg and have introduced the Electra Glide Ultra Classic Low / Ultra Limited Low motorcycles with lower seats and ground clearance. Plus they brought out a new 3-wheeler, Freewheeler, that definitely isn't your daddy's Tri-Glide.
"The broad 2015 Harley-Davidson model lineup demonstrates our commitment to delivering amazing products to our customers through world-class, customer-led product design," said Matt Levatich, President and Chief Operating Officer, Harley-Davidson Motor Company. "We are one with our riders around the world, and everything we do is about delivering what they expect and deserve from Harley-Davidson."
Customer-led innovations for 2015 include:
Road Glide Motorcycle
After a 1-year hiatus, the original alternative bagger is back with a new triple vented, frame-mounted fairing that minimizes head buffeting, Dual Reflector Daymaker LED headlamps and a new handlebar with reduced reach and a new wrist angle for improved ergonomics.
Road Glide Special Motorcycle
The fully-loaded Road Glide Special is factory-equipped with premium Boom! Box infotainment, upgraded suspension, and Reflex linked brakes with an Anti-lock Braking System (ABS).
Freewheeler Trike
America's hot-rod swagger rolls even wider with H-D's expansion and dominance in the three wheel category. From its mini ape-hanger handlebar to its bobtail fenders, the Freewheeler trike fuses custom style and easy-handling performance. The all-new rear body shape gives the Freewheeler a low, lean profile.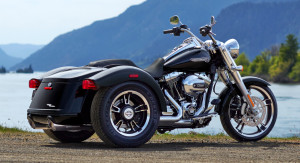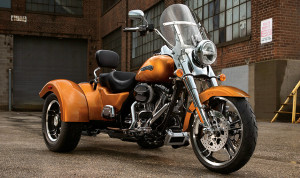 New Braking System for Softail Models
A new braking system for Softail models delivers improved modulation and responsiveness and decreases hand lever effort by 40 percent. ABS is now standard on all Softail models and optional on the Slim. New front brake components include a rigid four-piston fixed front brake caliper with 34 and 32mm pistons coated to minimize initial displacement, brake pads with high-output friction material, a new master cylinder with a higher mechanical ratio, and a new 300mm front brake rotor. The caliper and master cylinder have been restyled to enhance the looks of each model.
Electra Glide Ultra Classic Low / Ultra Limited Low Motorcycles
Harley-Davidson takes fit further with a package of ergonomic enhancements that offer the lowest seat height and highest rider confidence available in a premium touring bike, combined with a full complement of Project RUSHMORE features and classic Harley-Davidson style.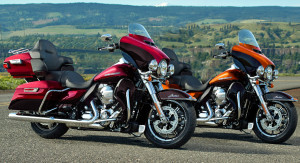 CVO Street Glide Motorcycle
Boasting a new Boom! Audio system backed by 600 watts of power streaming through 4 bi-amped front and rear 3-way speakers, this limited-production bagger is a rolling concert venue that delivers shocking volume and outstanding sonic quality. Top it off with an intricate paint scheme and the added exclusivity of four color options.
CVO Road Glide Ultra Motorcycle
Drenched in chrome and custom paint, this super-premium touring motorcycle offers world-class aerodynamics, luxury touring essentials and the unrelenting performance of a Screamin' Eagle Twin-Cooled Twin Cam 110 engine.
Harley is offering 8 new paint colors for the 2015 model lineup including new Custom colors Black Magic and Radioactive Green and new Hard Candy Custom metal flake colors Cancun Blue Flake and Quicksilver Flake.
The new 2015 Harley-Davidson motorcycles and accessories start rolling into Harley-Davidson dealerships today; Aug. 26, 2014. You can visit H-D.com to see all of the 2015 Harleys and to get specs and pricing.
Source and images: Harley-Davidson
Posted by Sam Kanish