This summer, the Harley-Davidson Museum® announces the opening of its special exhibit – "The Race of Gentlemen" – on June 16
The new exhibit brings the passion of Jersey Shore beach racing to Milwaukee.

MILWAUKEE, USA – April 27, 2017 – At the intersection of speed and style, The Race of Gentlemen has become a must-see and must-do automotive carnival. Dedicated craftsmen and women build and restore vintage American hot rods and motorcycles to blast down the beaches of the Jersey Shore. This summer, the Harley-Davidson Museum® is proud to bring together the vehicles, the artistry and the personalities that make up The Race of Gentlemen for its special exhibit.
"The Race of Gentlemen" will take over The Garage, a 10,000-square-foot special event space located on the H-D Museum campus, beginning June 16 and running through Labor Day (Sept. 4). In addition to displaying portraits, bikes and roadsters pulled from past races, "The Race of Gentlemen" exhibit will reveal the passion and devotion TROG compatriots bring to this sandy spectacle.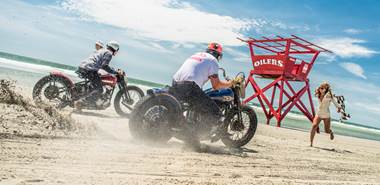 More than a dozen motorcycles and automobiles will be on display – machines restored and resurrected for the sole purpose of redlining down the shore. Some highlights include:
  1923 Ford T Roadster owned by Ray Evernham, former NASCAR crew chief for Jeff Gordon
  1946 Harley-Davidson Knucklehead owned and raced by Jeff "Hollywood" Baer
  1947 Harley-Davidson UL owned and raced by Tom Rowe, a former flat tracker

Select photography from featured photographers David Carlo and Cory Piehowicz can be found here. More exhibit artifacts will be revealed at a later date.

Please note: A media preview day has been scheduled for Thursday, June 15. For information on booking a time, please email Tim McCormick.
About the Harley-Davidson Museum®
The Harley-Davidson Museum® is located at 400 W. Canal St. in Milwaukee and provides a glimpse of American history and culture like you've never seen it before – through the lens of Harley-Davidson Motor Company. The H-D MuseumTM, a top destination in Milwaukee and the state of Wisconsin, is open year-round and attracts hundreds of thousands of visitors to the area each year. The 20-acre campus offers abundant and free parking, and includes MOTOR® Bar & Restaurant and The Shop. For more information on the Museum's galleries, exhibits, special events, tickets and more, visit the new and improved h-dmuseum.com.