STURGIS MOTORCYCLE MUSEUM HALL OF FAME CLASS OF 2022
INDUCTION CEREMONY – AUGUST 10
The Sturgis Motorcycle Museum & Hall of Fame seeks out the most influential people in the motorcycle industry to highlight their accomplishments and promote the future of motorcycling. Welcome to our 2022 Hall of Fame Inductees (in alphabetical order by first name):
Bill Davidson
Bob Kay
Carlo & Emma Lujan
Karen Davidson
Robin Bradley
Tom Seymour
Arlen Ness Lifetime Achievement Award Recipient – Don Emde
Freedom Fighter – Motorcycle Riders Foundation
Kickstand's Down – Ben Hardy
Stay tuned for Hall of Fame Highlights where we share info about each inductee leading up to the ceremony. The induction breakfast ceremony will be held on August 10, 2022 at
The Lodge @ Deadwood.
Buy Tickets Now
Learn More About the Hall of Fame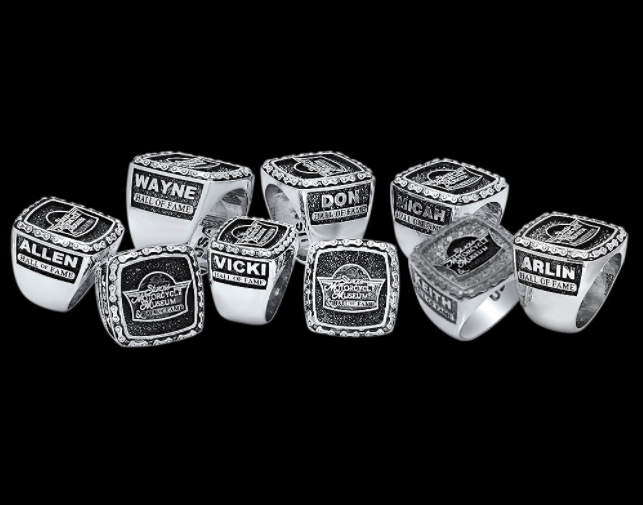 Learn more about Hall of Fame Ring Sponsor –        Nino 925!
Frank Zubieta, Nino925 owner and designer, has had a life-long passion for creating superior lifestyle jewelry that spans from the edgy biker and ink culture to the more refined and growing custom design market.
An artist craftsman at heart, Zubieta specializes in turning the abstract into imaginative, quality jewelry and accessories that stand the test of time. For over 20 years, Nino925 has specialized in creating superior, handcrafted custom jewelry in .925 sterling silver, yellow gold, white gold and platinum. Every piece is handcrafted and designed in the heart of the Los Angeles jewelry district.
Nino925 has gained worldwide exposure among those looking for unique jewelry that helps express their individuality – whether you are a biker, rocker, ink addict, weekend rider… you name it, you're just a few clicks away from finding that perfect piece. Nino925 designs are currently being worn by rock stars, celebrities, bike builders.
All pieces come with a satisfaction guarantee. Nino925 also fulfills requests for original designs for specialty retailers, private label, motion pictures. All pieces are designed to last for many years of enjoyment and wear. For additional information or to request a custom design, call us at 1-877-Nino925 or email us at sales@nino925.com.