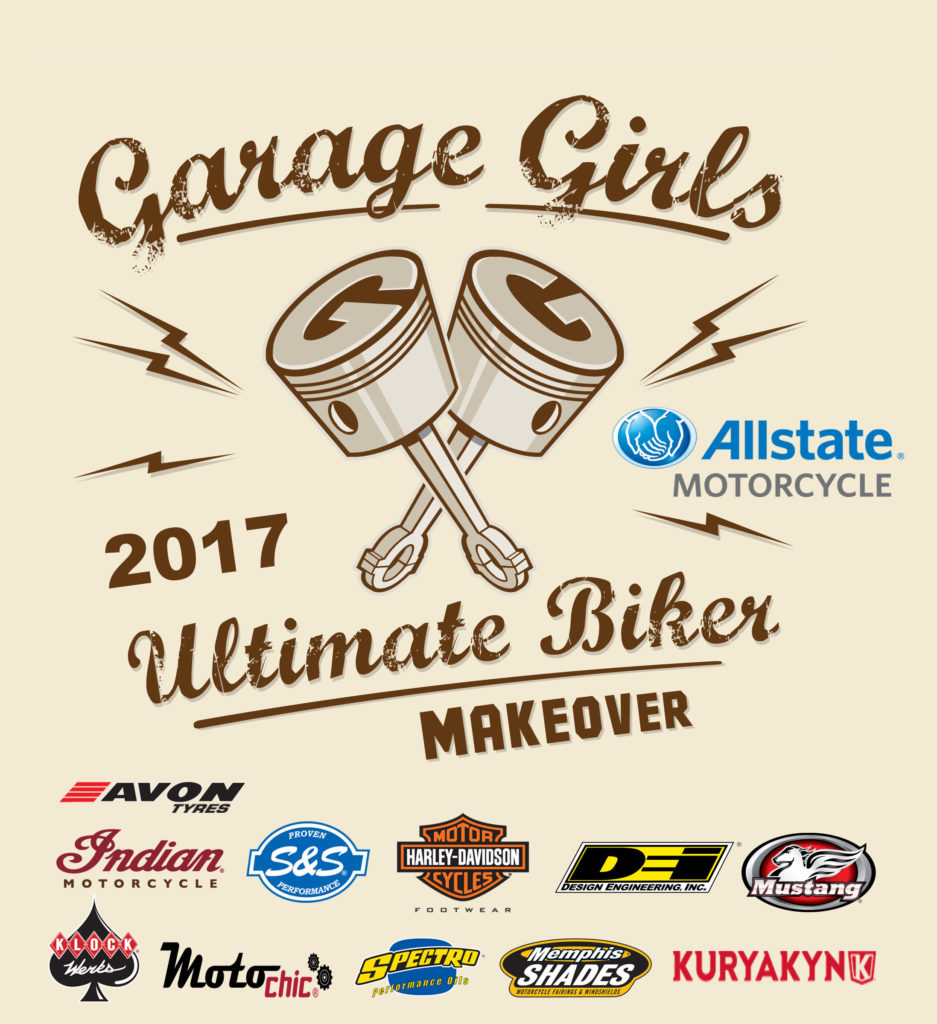 (Manheim, PA) June 9, 2017 – How would you like to score a HUGE list of parts and accessories for you AND your Motorcycle? You can if you enter the Garage-Girls Ultimate Biker Makeover 2017, brought to you by Allstate Motorcycle Insurance. But, you must hurry! The deadline to enter, July 7th, 2017, is FAST approaching.
Contestants (Girls and Guys) must submit a 600 words or less essay – describing why they are most in need of a biker makeover as well as a photo (jpeg no larger than 5mb) to bikermakeover@garage-girls.com Deadline for entries is July 7th, 2017. Submissions will be narrowed down to the final four by selected judges from Garage-Girls. From there, the judges will decide who they feel most deserves the Ultimate Biker Makeover and will get to take home all the prizes which include; A wardrobe of shoes from Harley-Davidson Footwear, a case of full synthetic oil from Spectro Oils, A new Mustang Motorcycle Seat, a set of tires from AVON Tyres, A Valerie bag by Motochic, Surprise from S&S Cycle, Klock Werks, Kuryakyn, DEI, Memphis Shades, Indian Motorcycle and MUCH MORE!!  Winner will be announced

August 10th

on Garage-Girls.com and Garage-Girls FB page. 
For more information, rules, eligibility and submission procedures, visit www.Garage-Girls.com
If interested in getting your company involved please contact Sara Liberte at sara@saraliberte.comAbout Garage-Girls
Garage-Girls.com is the exciting established website developed to meet the growing needs of women who are seeking information about motorcycles/automotive and the culture. Our intent is to provide safe, accurate and fun information. The Focus of Garage Girls is to encourage women to maintain a balance between their love of motorcycles, cars, and anything in the garage with a healthy body and lifestyle.

About the Ultimate Biker Makeover
The Garage-Girls Ultimate Biker Makeover is a well-established contest entering it's 9th year offering an opportunity to a well deserving winner the chance to get "Hooked UP" from major supporting sponsors. Contestants are encouraged to submit a 600 words or less essay – describing why they are most in need of a biker makeover. Submissions are narrowed down to the final four by selected judges from Garage-Girls. From there, the judges decide who they feel most deserves the Ultimate Biker Makeover and the opportunity to take home all the prizes!
About Allstate Motorcycle Insurance
For 50 years, Allstate Agents have delivered motorcycle protection with a purpose: to keep riders riding. Allstate is proud to be a long-time advocate and resource for the riding community. With features like the Rider Protection Package®, New Motorcycle Replacement and Genuine Parts Guarantee, we have your back – and with discounts that can help you save up to 50%, you can save your money for gas, more epic rides or more gear. You can feel confident that Allstate Agents know the special needs of riders and can help you customize a policy to meet the unique needs of you and your bike.

For More Information please Contact Sara Liberte at Sara@saraliberte.com