Tucker Powersports Dealerships to Offer Award Winning, High-Technology Helmet
Fort Worth, Texas. – April 18, 2023 –
Forcite
 and 
Tucker Powersports
, announce the availability of Forcite MK1S, the world's most advanced motorcycle helmet, through powersports dealerships in the United States. The highly sought after Forcite MK1S touts a first-to-market smart helmet system and advanced features in audio, visual and road alert systems for motorcycle riders.
Forcite MK1S capabilities are unmatched in the motorcycle helmet industry and operate as a system (helmet, built-in electronics and a related
Forcite app
) to provide an engaged and connected riding experience. 
Tech features include:
A proprietary road alert and in-helmet, peripheral LED display that communicates route information and turn-by-turn directions to the rider, with no need to look away from the road ahead. 
High-end audio with Harman Kardon speakers and a dual microphone designed specifically for Forcite's motorcycle environment.
Built-in action camera with 1080p resolution, low-light capability and a Sony IMX sensor. 
The carbon fiber shell allows Forcite to deliver the lightest smart helmet on the market, and houses 3D-formed foam padding throughout, a unique neck roll design and a chin curtain to reduce road noise for the rider. The visor features a Pinlock MAX120 insert, which absorbs moisture to keep the visor clear and offers a unique Pinlock closure system with a locking switch for track and high-speed use. 
Forcite's Australia-based CEO and Co-Founder, Alfred Boyadgis, joined forces with industrial designer, Julian Chow, to make a radically improved motorcycle helmet after being involved in a motorcycle crash. The result is a design that eliminates heavy clip-on cameras, unmatched headsets and difficult to read or hear rider information. The Forcite app integrates with the helmet's Rider Alert System and leverages online information to deliver a more dynamic and safer riding experience. 
After launching the highly successful Forcite MK1 in Australia in 2021, a team of ten Forcite design engineers spent two years, dozens of prototypes, and invested $10.1 million in research and development to create the Forcite MK1S. Currently, there are over 3,500  Forcite MK1 and MK1S  helmets in use across Australia and Europe. 
"Where others use clumsy clip-ons to shoehorn tech into their helmets, we've honed every part of the Forcite MK1S to create the next generation of smart helmet," said Boyadgis. "We captured thousands of points of on-road feedback sent in by Forcite MK1 riders. Our design engineers used this info to craft more luxurious padding, high-end audio, and to improve camera quality in the Forcite MK1S. Our rider alert system and peripheral LED display is even more dialed into real time road conditions, helping riders keep themselves safe. These are the most advanced Forcite features for a helmet we've ever created. Motorcyclists are going to love them." 
Forcite's Aftercare Program ensures that an investment in a smart helmet retains its value, even if a rider is involved in a crash. Should a Forcite owner's helmet get damaged, the company will transfer the tech components to a new shell, test all of the electronics and deliver it to the owner for only the cost of the new shell. Specific details of this program are available on the Forcite website.
"We're particularly proud of our relationship with Forcite and our exclusive agreement to deliver their helmet to our dealer network," said Tucker CEO Mark McAllister. "This helmet features groundbreaking technology in a package that works, no matter whether a rider is on pavement, dirt roads or the local track. I can't wait to start seeing posts of some great track day videos."
Tucker Powersports distributes the Forcite MK1S through their network of dealerships and are available for immediate shipment. Suggested retail price is $1099.99.
About Forcite 
Forcite is a Sydney based technology company that has created a mass-produced smart motorcycle helmet with ECE 22.05 (EU/Australian safety standard) and DOT (USA standard) certifications, patented visual alerting system, integrated camera, and audio technology. 
The company was born out of firsthand experience, when in 2013, motorbike enthusiast Alfred Boyadgis took a fall going through an oil slick, injuring his knee. It transpired that the camera mount had smashed the side of his helmet compromising the protection to his head. Aside from bolt-on devices not being designed for helmets, the thought did strike him that given modern sophisticated camera, sensor and tracking technology like we see in luxury cars, we should be able to anticipate such hazards. This would allow riders to take evasive action before those hazards become a danger.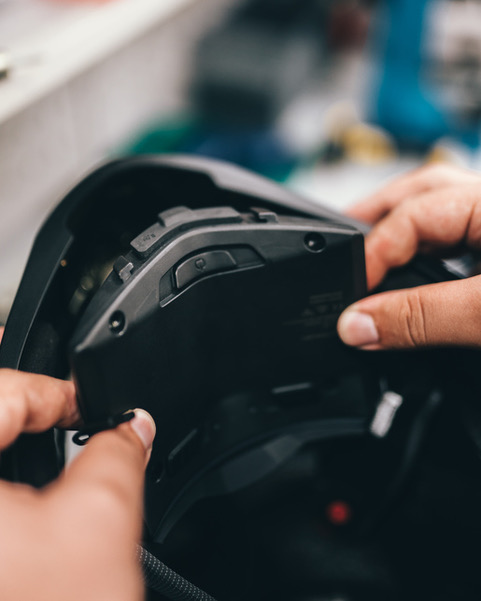 Together with fellow industrial designer Julian Chow, the two founders quit their jobs and set out to create a system from the ground up; one that not only provided superior protection, but also reinvented the riding experience for the better. The team initially employed the help of their local riding community during the product development phase. This eventually extended to include the broader Australian riding community and beyond, via a private Facebook group known as the "Forcite Test-Pilots" that would ultimately peak at over 16,000 riders. The pair developed a unique system that could successfully foresee hazards well before they were encountered, significantly improving rider safety. To date the team has raised over $12 million from grants and venture capital, and other shareholder funding, and in 2020 the Forcite MK1 smart helmet was delivered to market in mass production form. 
Forcite has achieved strong traction to date. There are over 3,500 Forcite MK1 and MK1S smart helmets in use across Australia and Europe.  
About Tucker Powersports: 
Featuring the most powerful portfolio of parts, accessories and apparel brands in the powersports industry, Tucker distributes top brands and offers its own brands, including Answer, Biker's Choice, BikeMaster, Bully Locks, CoverMax, DragonFire Racing, FirstGear, Kuryakyn, ProTaper/ProTaper Sport, QuadBoss, Speed and Strength, and TwinPower.