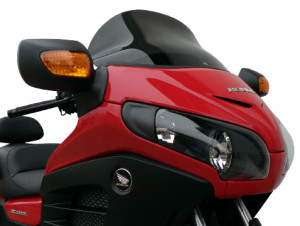 (Mitchell, SD) March 17, 2015 – The style and performance of Klock Werks Flare™ Windshield is now available for Honda Gold Wing and F6B riders! Gold Wing riders are known for long distance riding, and Klock Werks is confident that they will appreciate how the Flare™ Windshield improves comfort, as well as aids performance of an already great bike. And Klock Werks styling compliments the aggressive lines of the new F6B. The same benefits of Klock Werks original, patented, and wind-tunnel tested Flare™ Windshield are felt with the Honda applications. The Flare reduces annoying wind buffeting and adds stability to the front of the motorcycle through proven down force – all while looking stylish!
"A stock shield simply pushes air. So any air that escapes around it is choppy, turbulent air that can make your helmet shake, your glasses fly up. Often a rider will think getting a bigger or taller windshield will solve the issues. The answer is how the air is directed and the shape of our Flare™ re-directs the air." explains Brian Klock. "Many times, a rider doesn't realize how uncomfortable it is, until they try a Flare™ Windshield. Then they wonder how they ever rode without one!" Besides how well the Flare™ Windshield performs, it looks great too, adding style to the lines of your Honda.
Klock Werks Flare™ Windshield for Honda is made from hard-coated polycarbonate material for lasting durability. The Flare™ is easy to install on Gold Wing and F6B bikes using factory mounting hardware, and still utilizes the stock adjustability of the Gold Wing windshield. Available in different tint, height, and vented or non-vented options, Klock Werks is sure you will find a Flare™ for Honda that suits your specific needs.
"We are excited to enter the Honda market with our patented Flare™ Windshield, and educate Honda riders about how the Flare™ works. So far we've received positive feedback from Gold Wing and F6B riders that have chosen the Flare™," states Laura Klock, VP and Marketing Director at Klock Werks. "We would love to get our "Try It Before You Buy It" Test Ride program launched at Honda dealerships so more Honda riders can Understand the Difference a Flare™ makes in handling and air managemet, so we encourage dealers to contact us, and riders to ask their dealers." The Flare™ is currently available at http://www.kustombaggers.com, through Parts Unlimited dealers, and at events this summer.
About the Flare™ Windshield
Klock Werks Flare™ Windshields feature "hips" at the sides that re-route the wind away from you while adding downforce to the front-end of the motorcycle to improve stability, vs. riding with the stock windshield. The flip at the top of the Flare™ redirects air back as clean, less turbulent air for rider and passenger. Don't just block or push the air, use the air for you, redirecting the wind to improve your ride. Wind tunnel testing and real world riding have proven that Klock Werks Flare™ Windshields continue to be the first, and best choice for riders everywhere. Made in the USA from hard-coated polycarbonate material for added durability and quality.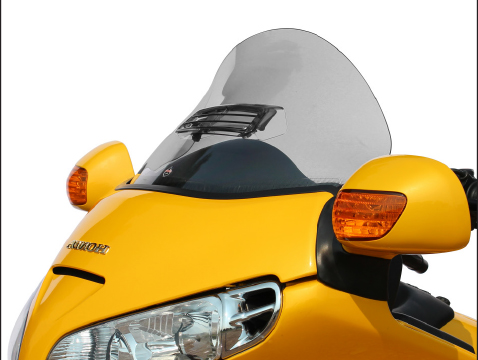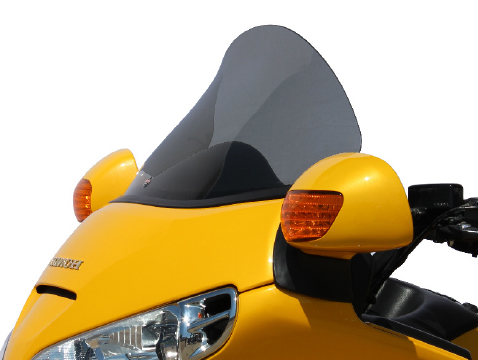 About Klock Werks
Located in Mitchell, South Dakota, Klock Werks has grown from humble beginnings to a nationally and internationally recognized Brand. Achieving status as "Air Management Experts", Klock Werks credits this to the success of the original, patented, Flare™ Windshield. Also supplying fenders, handlebars, and other motorcycle parts, Klock Werks proudly leads the industry through innovation in design and quality of materials and fitment. Team Klock Werks has been successful for years designing parts, creating custom motorcycles, and setting records on the Bonneville Salt Flats. You will find motorcycles, family, and faith at the core of Klock Werks, along with a commitment to caring for the needs of enthusiasts around the world who enjoy their products.
For More Information please Contact Sara Liberte at Sara@kustomcycles.com