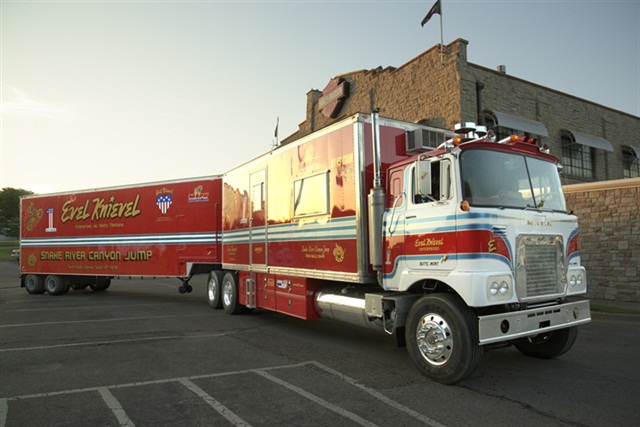 Mack Trucks is celebrating the holidays by featuring Evel Knievel's show truck "Big Red" at the Mack Trucks Historical Museum on three consecutive Saturdays in December.
The custom 1974 Mack FS786LST show truck is part of a temporary exhibit that will be open noon to 4 p.m. on three straight Saturdays: Dec. 5, Dec. 12 and Dec. 19. The exhibit will also be open during the museum's regular exhibit hours on Monday Wednesday and Friday the week of Dec. 7.
"The Mack Trucks Historical Museum is where the history of Mack Trucks comes to life, and Evel's show truck is no exception," said John Walsh, Mack vice president of marketing. "Seeing Big Red not only brings back memories for those who watched Evel's incredible stunts, but also helps create new memories for those who didn't."
Special activities are planned for the Saturday openings to include face painting, refreshments available for purchase and a vintage Evel Knievel video showing in the Bulldog Theater.
Big Red was custom-built for Knievel to haul his motorcycles, ramps and other equipment from event to event and was decorated inside and out with the daredevil's colors and style.
The truck was rediscovered in a Florida salvage yard a few years ago in a state of disrepair. The truck was bought and restored as close as possible to its original condition by Lathan Mckay of Evel Knievel Enterprises and Historic Harley Davidson of Topeka, Kan.
The truck made its debut in July at the Evel Knievel museum, which is under construction at Historic Harley Davidson, and will feature several one-of-a-kind pieces of Knievel memorabilia.
The Mack Trucks Historical Museum is a not-for-profit corporation, separate from Mack Trucks, in Allentown, Penn. It hosts the premier collection of Mack trucks and Mack history.
SEE MORE: Related: Mack Show Truck Stars at Evel Knievel Documentary Premiere