We are thrilled to announce the worldwide release of Fine Artist David Uhl's newest masterpiece, "Daytona Drags", featuring the lovely Paige Wyatt.
Since 2005, David has offered a special piece for Daytona Bike Week each year.  You can view the entire collection here:
This piece demonstrates David's mastery of "light and shadow" and firmly reinforces his commitment to take motorcycle art to the highest level of excellence.
"Daytona Drags"
2015 Daytona Commemorative
David Uhl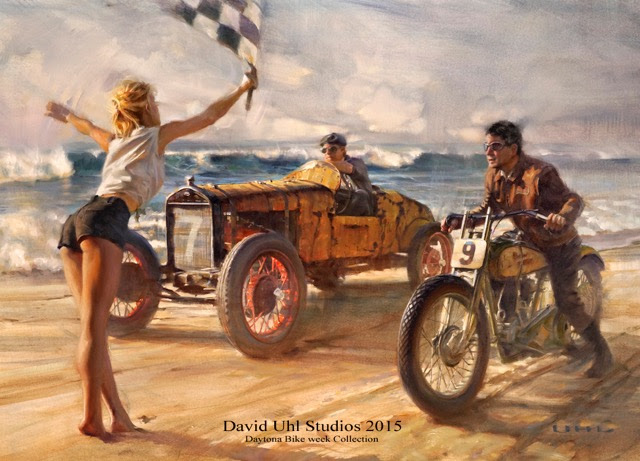 In David's words, "This year's piece is done in the spirit of expressive paint, accentuating the wind and movement.  Oil paint is the optimal medium for painting figures or motion because it allows you the capacity to alter edges and keeps figures from being stiff cardboard cut-outs.  It also provides depth and dimension unmatched with other media."
Signed and numbered canvas prints are now available for purchase at special Rally pricing through the end of Bike Week (
March 15th
).  These Fine Art prints will come framed with a commemorative plaque and a Certificate of Authenticity.  David will also include shipping within the contiguous 48 United States for orders placed within that time frame.
** Image size appx 20″ x 26.5″, framed price $895
** Image size appx 30″ x 40″, framed price $2,250.  We are offering a special pre-rally price of $1,895 for orders placed prior to
March 5th
, when the gallery opens in Daytona.
As always, edition numbers will be assigned as orders are taken and matching numbers are available for those who are adding to their Daytona Series.
For our new collectors, these Daytona and Sturgis commemorative pieces are the perfect vehicle for getting into David's work.  The smaller pieces would normally be $1,250 PLUS shipping.  And because of the immediate scarcity of these prints after the rally, they typically go up in value very quickly.
To reserve your Daytona piece this year, simply respond to this email or call me at
303-913-4840
.
If you're coming to Daytona, please stop in and say hello.  We'll have the full gallery at Destination Daytona Harley-Davidson in Ormond Beach (right outside the front door) from
March 5
-15.
Thanks!
Greg
Greg Rhodes
National Sales Manager
Uhl Studios
15801 W. Colfax Avenue
Golden, CO 80401