H-D Racers 1-3 in Premier Bagger class; H-D Racer Carlson wins Hooligan GP and Pro Stock GP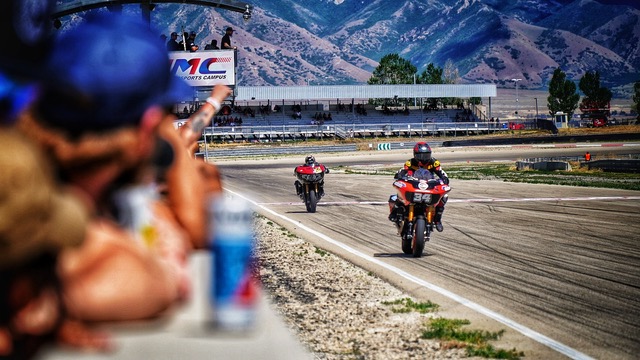 Michael Barnes (34) set the pole position, led every lap, and beat Tyler O'Hara (29) to the finish line by 0.356 seconds in the Bagger Racing League Premier Bagger GP race.
MILWAUKEE (June 28, 2021) –  Hoban Brothers Racing/DTF Performance rider Michael Barnes rode a race-prepared Harley-Davidson® 
Road Glide® Special
 motorcycle to victory in the inaugural Bagger Racing League (BRL) road race event on June 27 at Utah Motorsports Campus in Erda, Utah. Competing in the main event Premier Bagger class, Barnes beat S&S/Indian Motorcycles rider Tyler O'Hara to the finish line by 0.356 seconds. Cory West was third on the Saddlemen Racing/Slyfox Performance Harley-Davidson Road Glide Special. In BRL support classes, Benny Carlson won both the Hooligan GP (Suburban Motors Harley-Davidson XR1200) and Pro Stock GP (Suicide Machine Company Harley-Davidson Road Glide) races.
"This win is a confidence booster for myself and the team," said Barnes. "We didn't think we were that far off at the MotoAmerica King of the Baggers race at Road America. For this race we had a different front end, different shocks, different geometry. We made some smart decisions, and they have all made the bike better. That's a testament to the knowledge of this team. Setting up a Road Glide for road racing has been a steep learning curve, not just for me riding it but everyone involved. We've made leaps and bounds at every test and every event, so after disappointing results earlier this season it's a great reward to get this win."
Barnes was the top qualifier for the BRL event, took the holeshot, and led O'Hara for the entire 8-lap race distance.
"Tyler and I have raced each other a lot over the years," said Barnes. "He was right there the whole time. At the start, I could feel him try a line up the inside. And couple times I ran wide due to shifting issues, but he wasn't able to take advantage. I basically got the holeshot and tried to keep him at bay."
The 
Bagger Racing League
 is a new racing organization promoting road-racing competition for American V-Twin-powered motorcycles. Racing takes place in four classes over a three-day weekend that also includes entertainment including stunt shows.
Bagger Racing League Premier Bagger GP Results:
1.     Michael Barnes (Hoban Brothers Racing/DTF Performance Harley-Davidson)
2.     Tyler O'Hara (S&S Indian)
3.     Cory West (Saddlemen Racing/Slyfox Harley-Davidson)
4.     Ben Bostrom (Feuling Parts Harley-Davidson)
5.     Jake Johnson (Alloy Art Harley-Davidson)
6.     Shane Narbonne (Trask Performance Harley-Davidson)
7.     Patricia Fernandez (Saddlemen Racing Indian)
8.     Anthony Sollima (Speed Merchant Harley-Davidson)
9.     Zack Nation (Zack Nation Racing Harley-Davidson)
About Harley-Davidson 
Harley-Davidson, Inc. is the parent company of Harley-Davidson Motor Company and Harley-Davidson Financial Services. Our vision: 
Building our legend and leading our industry through innovation, evolution and emotion.
 Our mission: 
More than building machines, we stand for the timeless pursuit of adventure. Freedom for the soul. 
Since 1903, Harley-Davidson has defined motorcycle culture with an expanding range of leading-edge, distinctive and customizable motorcycles in addition to riding experiences and exceptional motorcycle accessories, riding gear and apparel. Harley-Davidson Financial Services provides financing, insurance and other programs to help get Harley-Davidson riders on the road. Learn more at 
www.harley-davidson.com
.