Story by Edge
Photo by Jeff Najar
The day before I was meeting Prince Najar for the ride down to Daytona I parked my bike in front of the house, walked into the kitchen and smelled something good cooking. There was a heavy looking pot on the stove with some type of shredded meat. Apparently this pot is a cast iron, over-priced device named a Le Creuset.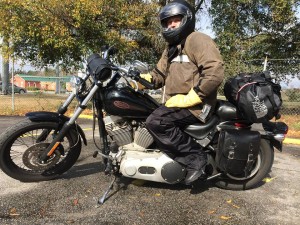 "Hey, that smells good," I said to my wife.
"Put the lid on so it doesn't dry out," she said.
Now, "drying out" implies (to me) it has been sitting out for an hour or so. So I looked down at the four-pound, cast iron lid next to the pot and grasped it firmly to lift it. A searing pain from the 350-degree lid shot to my brain. I made that crazy-face the Nazi makes in Raiders of the Lost Ark when he grasps a red-hot medallion. Then, I gave my wife my piercing "WTF" look.
"You should have used a potholder," she said.
"I didn't know you just took it off the stove!" I said.
"I didn't," she said loudly in that kind of jubilant voice she uses whenever I am wrong. Then in a very quiet voice she added, "I just took it out of the oven."
I was wondering how my hand would feel the next day when we headed south. As it turned out, I shouldn't have worried. I had recently received a set of Aerostich Insulated Elkskin Gauntlet Gloves and they are the perfect medicine to keep your digits happy in questionable weather.
When I first received the gloves they were just a bit tight, which is what you want. I spent some time wearing them and they stretch slightly and form to your hand. I sprayed the back of the gloves with a silicone based waterproof spay made by Kiwi called Camp Dry. In the past I have used Mink Oil on the back of my gloves and the color of the gloves would darken several shades, which I don't mind. I expected the same from the silicone spay but nothing much happened. Until the rain hit them, it was hard to tell I had sprayed them.
The Elkskin Gauntlets are serious gloves. Good gloves are not inexpensive but these are gloves that will easily get me through a decade of southern winters. The Insulation is 100% merino wool, which Aerostich states is softer, thicker, warmer and more durable than the common fleeces and synthetic fibers. Having camped in the great outdoors for many years I can absolutely attest to the fact that wool surprisingly outperforms most new wonder insulations, especially when wet. However, the downside of wool has always been weight and the texture against your skin. Aerostich has sandwiched a blocking layer of fleece covering the entire backside of the hand between the deerskin outer side and the merino wool. This wind blocking fleece layer also extends across the backside of the thumb. The fabric that's against your skin in these gloves is comfortable. Even with extra sensitive, Le Creuset-modified skin, these gloves are comfy. No itch, no exposed seams. Flawless!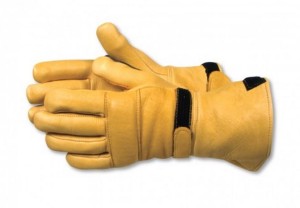 Heading south the next morning the weather wasn't ideal for riding, but it was perfect for testing the gloves. We took off in overcast skies and 48-degrees. Light sheets of cold gray rain completed the ambiance twenty minutes in, and accompanied us for the next four hours as we made our way south, first on Interstate 26 and then 95.
I kept waiting for the time when then water would soak into the gloves enough so that I could feel it against my skin and it never came. It was not a heavy rain but every glove I've had soaks through at some point. These gloves look like they would suck up water like a sponge but they don't. Over the 900-mile trip I found that the best operating temperature of the glove for me was between 50 and 70 degrees and I definitely prefer the silicone spay to mink oil. I will be using these gloves for a long, long time.
Insulated Elkskin Gauntlets feature American elkskin leather palms for greater durability and protection, and American deerskin in other areas for lightweight durable comfort. Aerostich has added a visco-elastic TF3 impact pad beneath another layer of deerskin across the knuckles. I didn't have to punch any cheddar-heads in Daytona, but then again I'm not positive punching people is the reason for that particular upgrade. It may be because it adds further protection to the hand! There's also a cinch at the wrist and a Velcro adjustment tab at the end of the gauntlet.
Oddly, and I never noticed this before, there are huge billboards with pictures of Le Creuset cast iron pots on the side of I-95 headed to Daytona. These signs could have been cruel reminders of uncomfortable hands but they weren't; not in these gloves.
Enjoy the wild ride!